When you think of an uber successful interior decorator, chances are you think of someone who is constantly on the go and fighting for new spaces to design. Not Muriel Brandolini. This bohemian designer takes life a little bit slower taking on only the jobs that please her and that inspire her creatively.
Behind the Designer: The Background of Muriel Brandolini
Muriel grew up in Saigon during the Vietnamese war. When her father passed away at an early age, her family moved to Martinique. She struggled there and was sent to Paris to finish out her years in school. This is where she found her passion for fashion, architecture, and design.
Since then, Muriel moved to New York. She quickly worked her way through the corporate design world, hustling to get ahead. However, it wasn't until she worked on designing her first home with husband Nuno Brandolini that she found her thirst for interior design.
Recently, Muriel published a book called, "The World of Muriel Brandolini Interiors (Rizzoli)." At the same time, she auctioned off a furniture collection and launched a product line at Barney's. It's her fierce love of designing spaces that enables her to go, go, go. And yet, she only takes on what she wants to take on.
Lessons Learned From Muriel
Now, you can get a glimpse into some of the best lessons Muriel has learned over her years of designing rich spaces. Here are some tips to help you bring modern bohemian design into your home.
Don't be afraid to experiment with some color
Muriel is known for using unusual colors in her spaces. When designing a space she does not have a simple "go to" color palate. Instead, she gets a sense for the space and how it will be used and then incorporates bold color schemes to accommodate.
She has designed rooms that have both dark décor and bright bold splashes of color. Don't be afraid to take some of these same risks in your space.
Use fabrics.
Muriel is known for adorning walls, windows, and art pieces with fabric to liven up a room. For example, in her living room, she covered her walls using a silver shimmer fabric. This was done to bring in more light and simplicity. You can do the same by adding swatches of fabric and color to match the mood you're trying to achieve in your space.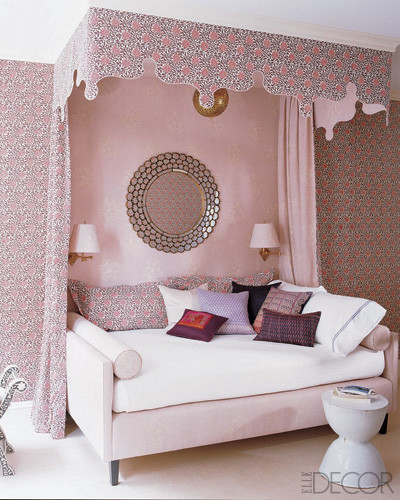 Don't stifle your creativity.
Muriel does not have professional training in interior design and she's grateful for that. In fact, she thinks that having professional training could have limited her creativity and dampened her success.
In today's world, Pinterest boards, idea books, and inspiration posts are good to look at – up to a certain point. Gather creativity where you can and then act on what makes you unique.
What are your thoughts on Muriel's style? Have you used any of these tips when designing your space? Share with us in the comments.
* Cover Image from New York Social Diary – http://www.newyorksocialdiary.com/decorator-series/2011/muriel-brandolini *