Bestlaminate - About Us
We are flooring experts, and we love what we do. In a world of faceless corporations, Bestlaminate is anything but.
To us, flooring is more than a business - it's a passion. We love what we do, and want to share that energy and enthusiasm with our customers. You might know that Bestlaminate is a family-owned business, but the backstory is much richer than that, we invite you to read our history.
Through perseverance and the formation of close customer and vendor relationships, we have grown into one of the largest online retailers of flooring and a noted authority on laminate products, helping to beautify interiors across the country.
This is how we set ourselves apart from the rest
It fascinates us to hear about your projects, successes, trials, and new beginnings. From the very beginning, we earned a positive reputation by building relationships, and trust with our customers. We love to help our customers.
You can call us during work hours to get all your questions answered. Our online chat is available to take your questions 24/7, and our staff will respond to you promptly with their advice. Each member of our company has had extensive product training and is ready to help.
Here at Bestaminate, we are committed to helping our customers in more ways than one.
Excellence
We've been BBB A+ rated since 2005 for a reason. Our continued commitment to excellence is the foundation of what we do. Our goal is to provide you with great products, and outstanding service - before, during, and after your purchase.
Expertise
We are flooring experts, and we want to help make your project a big success! Our learning center hosts guides, facts, and tutorials covering a variety of flooring topics, from the buying stage through installation. A must-stop for DIY installers!
Value
We directly import a majority of our flooring, which allows us to offer great prices while delivering high-quality products. We also price match if you come across a lower advertised price because we understand that value is key when making a purchase.
Expect more from your floor
We've been BBB A+ rated since 2005 for a reason. We always have your best interest in mind!
Bestlaminate Mission, Vision and Core Values
Mission & Vision
Better service. Better Prices. Better Products.
Bestlaminate is a customer-focused retailer providing high-quality laminate building solutions that improve and beautify homes and businesses at a fair price.
To continuously innovate within the laminate building sector by introducing more solutions, continuously improving our expertise, working as a team, and keeping the customer first.
Family
Treat each other like family. Respect, compassion, communication, and fun

Passion
A passion for helping customers, doing the best possible job you can, going above and beyond

Integrity
Honesty and fairness with customers and co-workers
Energy
Being energetic, positive and motivated at work
Innovation
Always moving the needle to improve throughout the business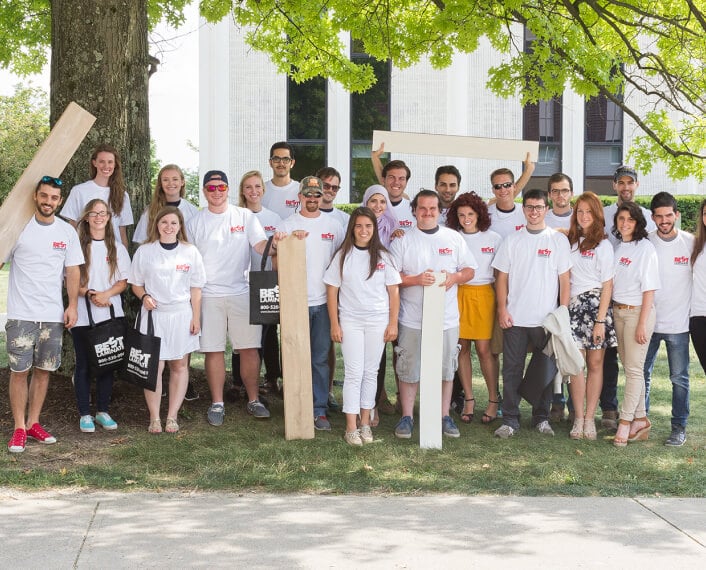 Looking Forward
We started in 2003 with just one skid of flooring, and have been selling laminate, hardwood and vinyl flooring ever since. You can now select from hundreds of flooring decors to suit your style and budget. Choosing your floor has never been easier with our complimentary flooring samples, delivered free of charge to your doorsteps in a just couple of days! Our massive flooring inventory gives us the ability to ship your order out fast, so you can get your project started! We ship a majority of orders within 1-3 business days. Pick up your order the same day at our location in Willoughby, OH, and have complimentary Italian coffee on us while waiting for your order to be prepared for you!
With demands of the modern market, we are committed to improving and growing our selection of laminate products and floor coverings. Using strategic partnerships, we will continue to introduce products that meet the changing needs of the market place. Along with new products, improving and expanding our content is a continual process that helps our website to evolve, not only in the amount of information that is available, but also in the way it is presented.
We invite you to join us on this journey, and hope that you will grow and learn with us!