Want to upgrade your space without spending weeks or months on a DIY home remodeling project? We've got you covered. Here are ten easy, quick projects that will give your home the makeover you're craving.
1. Attic Turned Movie Theatre
Attics are notorious for being small and stuffy. Turn that around and create an in-home movie theatre. To upgrade your attic, simply cover your floors with pillows to make the space feel cozy and comfortable. Then, hang a flat screen television on your wall. When you're finished, you'll want to invite the neighborhood over for a movie night at your place.
2. Staircase Turned Bookshelf
Staircases are perfectly shaped to add small shelves underneath. If you have open space under your staircase, install a few shelves. This can be done either on the stairs themselves or with a bookcase underneath the stairs. Showcase your favorite novels and literature in a way that doesn't take up space, but adds a lot of flair to your home.
3. Kitchen Island Turned Wine Rack
If you have some extra storage space in the island in your kitchen, use it to show off your wine collection. Take out one small drawer. Glue together large PVC pipes that will fit inside the open area. Then, slide your favorite red wines into each PVC pipe to fill out the space. It looks chic and it ensures you're always ready when guests come over.
4. Treehouse > Guest House
Have you seen the show, "Treehouse Masters" on Animal Planet? If so, you'll know just how cozy and comfortable these houses can be. If you have a big yard and a big tree, build a treehouse as a fun, private space for your guests and kids.
5. Walk-In Shower
Hate cleaning the soap scum off the side of the glass, or the stains that eventually accumulate on your inner shower curtain? Eliminate all of that with a walk-in shower. Remove your bathtub and slant the floor toward the middle of the shower stall. Then, install a showerhead that falls vertically (instead of the traditional diagonal) directly over the drain. That's all it takes to get a walk in shower that won't flood your bathroom.
6. Deck Turned Bar
Take a cue from your favorite beach bar and open up your kitchen windows to a bar top on your deck. Bar tops take up far less space than the traditional table and chairs. Create eating space to your deck by installing a small bar along the wall with your kitchen windows. Then, when you open your windows you can keep the conversation flowing while you cook dinner. You'll open up the space, and create a comfortable place to chow down.
7.  Add Secret Storage
Build in some secret extra storage right into your floor! Elevate a part of your guest bedroom into a little island the size of a bed. Set a box spring and mattress directly on top of this elevated island and forgo the bed frame. Then, add secret drawers and cabinets underneath the elevated part of the room. You can hide all of your seasonal décor, keepsakes, and other items you don't need easy access to, while saving your guests space when they stay with you.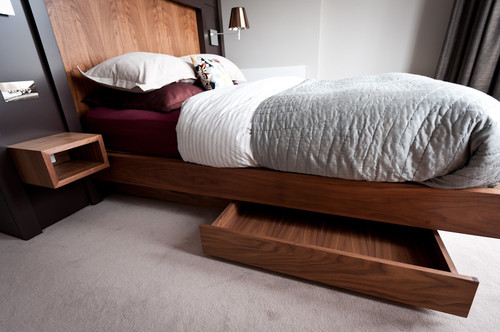 8. Outdoor Kitchen
Outdoor kitchens are all the rage, but they're expensive to build. Make your own by buying a custom cut piece of wood and staining it. Then, get a few distressed crates and secure them together to a stack of pallets. Add the custom cut piece of wood to the top and you instantly have a rustic outdoor kitchen island.
9. Small Doors Instead Of Baby Gates
Baby gates aren't always attractive. Make it easy for you to keep your kids safe by installing a small door instead. To do this, cut an old door in half and paint it. You could also stain an old barn door and install it into your space.
10. Outdoor Clubhouse
Pallets are often tossed out or recycled. Reuse them to build yourself an outdoor clubhouse. Simply lay some pallets as the foundation and flooring. Then, secure them together to form the four walls and a roof. With their square shape, they fit together naturally to form a small shed or play area.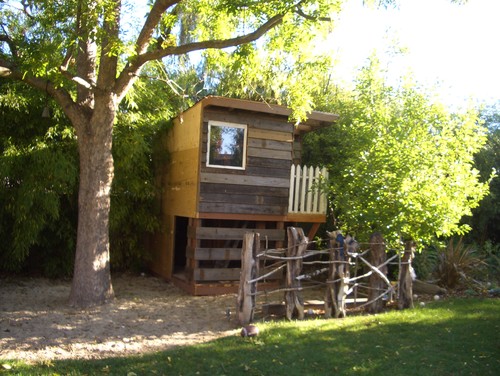 Have you tried any of these? Did you have success with a DIY home remodeling project of your own? Share it in the comments below!
More DIY Renovations: