Laminate flooring installation is one of the DIY projects that you can tackle yourself. If  you decided to install your floor by yourself use our installation checklist of 9 Essential Tips to assist you in a project. We put together important key points, that you should not ignore; especially if you are a first time installer.
Proper installation is super important. Why? Usually claims against flooring products turn out to be caused by wrong installation, rather than faulty material. You will have manufacturer warranty coverage as long as you follow manufacture's instruction. This is why you should read all instructions provided by manufacturer before laying your floor since each wood floor manufacturer may have different requirements and installation techniques.
Before you begin double check if you have the correct amount of laminate flooring and all the accessories to finish your project. In most cases add 5-10% to your square footage for waste and 15% for diagonal installation.
Use Bestlaminate tips to successfully install laminate flooring. So sit back, read on, and learn all about how you should approach and execute the installation process.
1. Inspect Floor
Before starting installation inspect each flooring plank- check if they have correct pattern, style and color.
Inspect all laminate planks for visible defects. Pay closer attention to laminate that was in the box with visible box damage.
Wipe planks with soft cloth before installation to check the flooring surface.
Do not install damaged laminate planks! All manufacturers will not replace or pay labor or charges on claims filed for materials installed with obvious visible defects.
If you discover a problem after opening 3 boxes of laminate, do not proceed with installation and contact your material provider for assistance.
2.  Plan Ahead
Plan everything before you start.
Have all necessary tools and accessories including proper underlayment, transitions, moldings, and glue before you start.
Read manufactured instruction, you should have full understanding of the scope of the project and realistic expectations of time of completion before starting laminate flooring installation.
Use all training resources available. Most of the manufacturers have on their website detailed instructions and/or videos how to install laminate flooring. Use it- it's FREE.
3. Check Your Subfloor Prior To Installation
Make sure the subfloor is dry, level and in good repair.
Clear all loose debris and dirt before laying the foam underlayment.
Nail or screw loose areas that squeak and replace damaged areas that are loose or have been damaged by moisture.
Acceptable common subfloors include: exterior grade plywood, OSB board, concrete slab, existing wood (not adhered to the concrete), vinyl, ceramic floor, terrazzo, particle board. Non-Acceptable subfloors include: carpet, cushioned floors, perimeter glued vinyl. Vapor Barrier underlayment must be used when installing laminate floors over below- or on-grade concrete sub-floor.
4. Acclimate Your Floor Before Installation
Store flooring horizontally in the original, unopened package. Do not open boxes until time of installation, atmospheric conditions may permanently alter the product, making it difficult to install. Before you start laying, your floor must be conditioned for at least 24 hours. During colder months adjust this time up to 48 hours, giving your floor time to reach room temperature.
Cross stack the unopened boxes in the room where the floor is to be installed.
Maintain temperature and humidity at your job site. Keep temperature of minimum of 65 degrees Fahrenheit and humidity should net exceed 65%. It is important to maintain it 48 hours before and after installation.
5. Radiant Heating? Follow Instructions!
Radiant heating system must be operating for a minimum of three weeks prior to the installation of laminate flooring.
Heating system should be turned off at the time of installation or if in winter should be set at exactly 65 degrees Fahrenheit for a minimum of 48 hours prior the installation.
After floor installation the operating temperature can be increased by a maximum of 5 degrees Fahrenheit in a 24-hour period.
Maximum allowable surface temperature for laminate floors is 80 degrees Fahrenheit.
Be sure to install vapor underlayment.
6. Use Proper Underlayment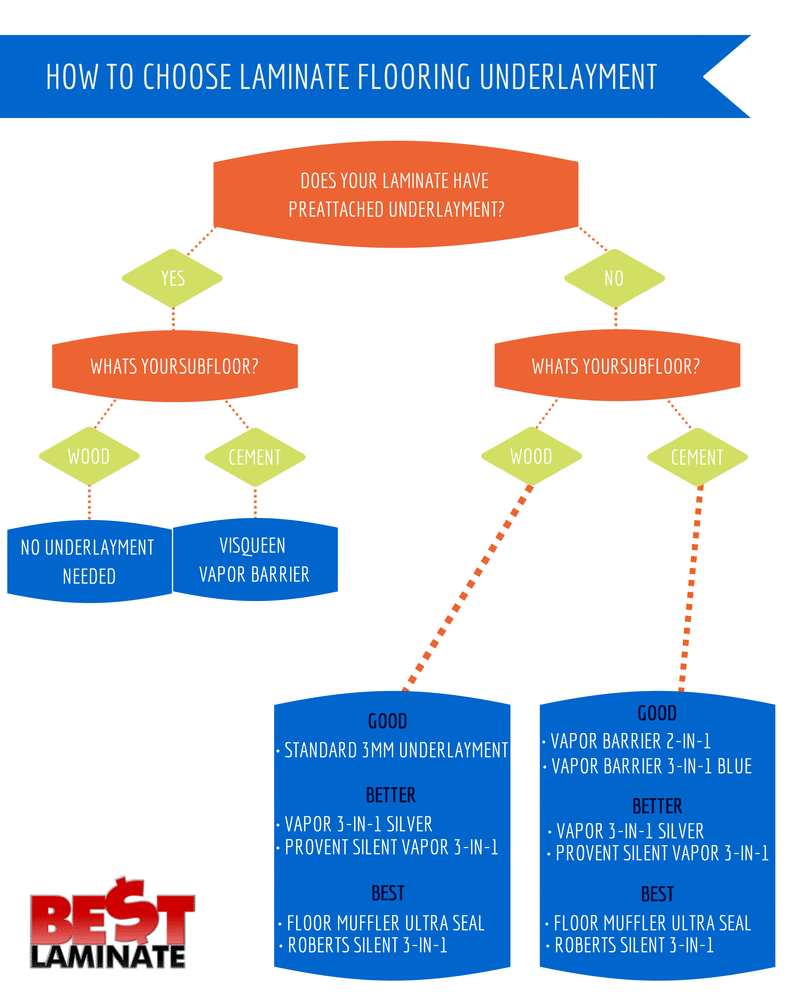 Laminate flooring requires an underlayment to be installed prior to the floor covering installation.
Use Standard Underlayment when installing your laminate over wood sub-floor.
Use Vapor Underlayment for: wood subfloor over crawl space, in manufactured houses, vinyl installed over concrete, cement sub-floor, ceramic tile installed over cement subfloor, radiant floor.
Use Silent Underlayment if you would like to reduce sound. This premium underlayment normally comes with vapor barrier attached, making it suitable for all subfloor types
Use Visqueen PE Vapor Film for installation with floors that come with pre-attached foam underlayment; this requirement relates only for subfloors where vapor barrier is required.
7. Expansion Gaps Are Essential
Laminate flooring is designed to be installed as "floated floor"– thus it is not nailed or glued to the sub-floor and works as one big "pancake" that expands and contract with temperature/humidity changes. Make sure to leave at least ¼" expansion gap around the perimeter of the floor and around any stationary objects (such as pipes, columns, build in cabinets). Failure to meet this requirement can result in the flooring buckling.
Areas grater than 30' in width or 60 in length (example: one room; two or more rooms with adjoining hallway greater than 4') must have a T-molding installed across the width of the room to provide additional expansion space. Don't forget to leave expansion gap when installing your moldings as well. Never fasten your wall base or q-round moldings to the laminate flooring using nails or screws. Nail them to the wall not to your floor!
If you have super heavy furniture, grand piano or solid pool table, use custom made "coasters" to evenly distribute the weight over big area. This way you will avoid a risk of buckling and your floor will freely float.

8. Don't Ignore Small Details!
Undercut door jambs before installing your floor
Plan how to finish areas around pipes, posts or pillars to have polished look!
Do not use calk to hide your mistakes.
Take your time to do it right!
Use color coordinated transition moldings to give a beautiful finished appearance.
9. Use A Sharp Saw
Use a sharp saw to avoid chipping and nicks. Never cut your laminate in the room where you install laminate flooring. When small particles of wood dust stick in the laminate flooring locking system you may have problems locking planks together. Need some more help? Check out how to select the right saw for installation.
Keep in mind
Most manufacturers have very detailed installation instructions on their web site. Take advantage of it and check it out before installation. It's FREE.
However,  if for some reason in any stage of installation you have doubt in your ability to successfully finish it, hire a professional installer who is BBB listed, insured and can give you at least one recommendation. Don't be shy to call his customers to check the quality of his work.
You can always count on our technical support. We are authorized distributor of the top quality laminate flooring and our well trained flooring specialists are here to answer all your questions.  Call Bestlaminate anytime during work hours at 1-800-520-0961 – we will be happy to help!
More Resources:
Editor's Note: This post was originally published in December 2009 and has been completely revamped and updated for accuracy and comprehensiveness.