Dear Bob and Betsy,
I'm thinking about using laminate in kitchen. I'm getting ready to remodel my living room and kitchen. I'm using laminate flooring in my living room so I want to keep it consistent throughout my home. Can you tell me what the best laminate flooring for a kitchen would be?
– Jennifer A.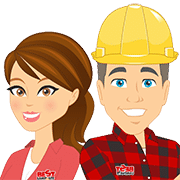 Dear Jennifer,
Congratulations on your home remodel! Laminate flooring in your kitchen is a great choice, but there are special considerations you should consider when purchasing laminate flooring for a kitchen! We have compiled more information for you to help to decide what's best for you. Cheers! Bob & Betsy
The Best Laminate Flooring In Kitchen
Keep in mind, laminate flooring is not waterproof. There are special laminates that have properties that can help with kitchen accidents. When deciding on the best laminate flooring for your kitchen, there are a few things you should consider.
Wax Edges: Having a laminate flooring that has wax edges can help keep moisture from seeping into your laminate flooring for longer. This is the perfect laminate to have in areas where spills can happen. If you miss a spot, you have a little bit longer to clean up the mess!
Durability: Choose a laminate flooring that will last for many years. Choose a laminate flooring with an AC rating of AC3 or higher for the best durability for your home. Choose a higher AC Rating for homes that get more traffic!
Color: If you want your laminate flooring to match the rest of your home. It is up to you whether you want the same exact color as the rest of your home, or if you want to separate your kitchen area with a different color. White and light colored flooring is very popular in kitchens because it gives the look of a clean space. Order several free samples to see what flooring looks best with your existing floor!
Shape: If you want to replicate the look of the rest of your home, we recommend using planks for your kitchen's laminate flooring. However, if you're planning to diversify the look of your kitchen just a little bit, you might want to use a square shape to resemble tile flooring.
Finish: Like photographs, laminate flooring is available in glossy or various matte, wood textures. Choose whichever finish you like better. Both finishes are extremely durable.
Be Sure To Clean Regularly
Cleaning laminate flooring is a breeze. If you spill something, you must wipe it up immediately. Chances are you would do that anyway. Then, all you need to do is sweep or dust it on a regular basis and it will stay clean and scratch free. Laminate flooring is a perfect choice for your kitchen because of its strength. It is stain and scratch resistant, so you can keep your laminate flooring for years to come. Installed with an underlayment, it blocks out moisture and muffles the sound making it more comfortable for you to walk and move around on.
If you have anymore questions about which laminate flooring is perfect for your kitchen, call or start a quick chat with our team to discuss your needs.
Learn More: