Dear Bob and Betsy,
I am installing COREtec Plus in my home and it comes with attached cork underlayment. I know with other laminate floors, you need to remove this padding before installing on stairs. Can I install COREtec flooring on stairs? Do I need to remove the cork underlayment on COREtec Plus floors before installing my floor on stairs?
– Jess L.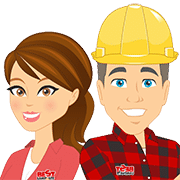 Dear Jess,
That is a really excellent question! As covered in a previous blog post, "Installing Underlayment With Laminate Flooring on Stairs," you know that underlayment is a crucial part of laminate flooring installations, but when it comes to your staircase, you can leave your underlayment behind. We have compiled more information for you to help to decide what's best for you. Cheers! Bob & Betsy
However, COREtec brand vinyl flooring that comes with attached cork underlayment, the installation is a little different.
You Do Not Need To Remove Cork Underlayment!
Luckily, you can use cork adhesive to glue COREtec flooring on stairs. Be sure to follow the directions on the adhesive's instructions and double check your flooring manufacturer's warranty to make sure that your warranty will not be voided for using this method of installation.
We have heard great things about Roberts 7250 Cork Underlayment Adhesive! You can find a local distributor for this adhesive on Roberts website: www.robertsconsolidated.com.
Learn more about COREtec flooring here:
Contact a flooring expert for additional information on COREtec! Call 800-520-0961 or email: [email protected].