Laminate flooring planks can be installed over almost any surface, as long as its level and in good condition. This means you can indeed install laminate flooring over tile or linoleum flooring. Before installing, however, make sure to take a few things into consideration.
Is Your Subfloor Is In Good Condition?
If your linoleum floor is starting to peel, or your tile is damaged and breaking apart, it is recommended that you remove these surfaces. Make sure your subfloor is clear of any debris before installing a floating floor. If the surface is not perfectly smooth, your laminate flooring will not lie as it should and this could lead potential issues. Avoid the headache and simply remove the linoleum or tile flooring to have a fresh start to a project that will last for years to come.
Is It Level?
Most tile flooring will have grout lines and an uneven surface. In this instance, you will need to buy a cement filler to smooth out the subfloor and create one level subfloor. You will need to ensure you let the cement dry for a long enough period before installing your underlayment and floating floor .
If It Is, Begin Installation!
In order to begin the installation, must install a layer of underlayment. Make sure you are using the correct underlayment as well. You cannot install over existing, pile carpet or carpet underlayment. Doing this will make the locking system on your flooring weak and prone to damage. Only install on another flooring if it is flat, in good condition and will give your laminate strength and support.
To find out which underlayment is right for you view this diagram: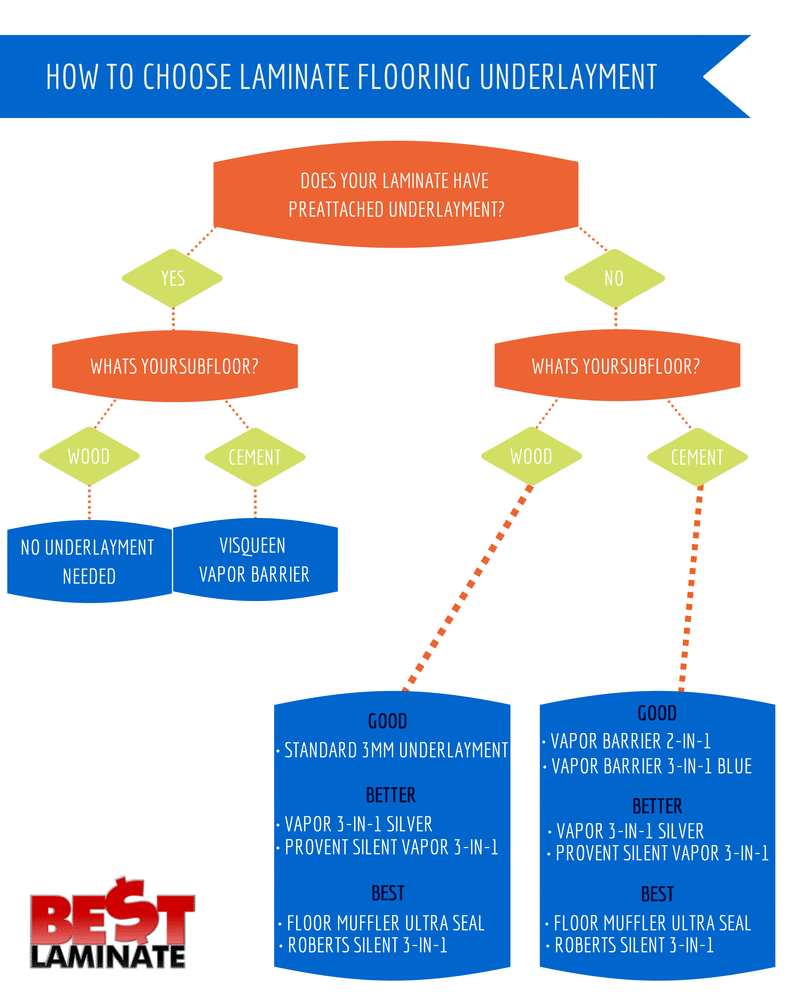 More Installation Tips: