Dear Bob and Betsy,
I'm struggling to understand how I should choose laminate flooring underlayment thickness. What factors do I need to look out for? How do I decide?
– John C.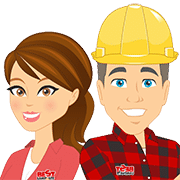 Dear John,
Great question! Your underlayment sits between the laminate flooring planks and your subfloor. The type you choose has a big impact on the comfort and life of your flooring, so it is important that you make the right choice for your needs. We have compiled more information for you to help to decide what's best for you. Cheers! Bob & Betsy
What To Keep In Mind
Underlayment provides three core layers of protection, which is important for a successful laminate flooring installation.
Reducing the sound of footsteps and echoing in the room, making your living space quieter.
Adding a cushioning, water-resistant layer to keep excess moisture out and prevent your floors from warping.
Insulating your room so that the hot and cold air cannot seep in through the subfloor.
The Types Of Underlayment
Because your laminate flooring is not permanently glued to the floor, the underlayment plays a crucial role in the comfort and protection of your home. There are a few types of underlayment. Knowing these types can help you distinguish which underlayment is right for your project.
Pre-installed underlayment. Some floors come with underlayment pre-installed. Even when the underlayment is pre-installed, you might still want to add a small moisture barrier layer underneath to keep more moisture away from your flooring. This is usually 3mm thick, or 1/8" thick.
Standard underlayment. This is the most commonly used underlayment. It is also 3mm thick (1/8" thick) and is best installed over wood subflooring. It only offers basic sound reduction. It does not keep out moisture.
3-in-1 underlayment. This type of underlayment provides all three core benefits in one cushion. It keeps vapors, sound, and any other damaging outside forces away from your flooring. It is easy to install over any type of subfloor. 3-in-1 underlayment is also thinner than the others. It is only 2 mm thick.
Choosing the right underlayment is confusing when you are not sure of the differences between the thickness levels. If you have any other questions while preparing for your flooring installation, please contact us using the comment section below! You will be put in touch with a flooring expert for individualized help in selecting the perfect underlayment for your needs.
Learn More: