Ever notice how some rooms seem to come together with ease? The style, colors, and décor all fit together in a way that feels effortless.
One top designer, Myra Hoefer, has that unique talent. Her styles look elegant, yet laid back, which gives the perception of simple sophistication. It makes amateur designers swoon, asking for some of her easy interior decor tips and tricks for their own spaces.
About Myra Hoefer
Myra Hoefer is one of Luxe Interiors and Design 2015 Gold List winners.
She lives and works in California. In fact, she's somewhat of a celebrity in her town of Healdsburg. The culture of this sunshine state provides tremendous inspiration for her chic, relaxed décor.
Before California, Hoefer spent some time working in Paris. For a decade, she worked part time as the owner of an atelier. She'd dine at small French bistros, and chit chat with friends in her comfortable apartment.
Now, her designs mimic each of the locations where she lived. She incorporates California relaxation with quaint French style. The outcome is something to be admired.
Here are a few tips to help you incorporate the same style ideas in your home.
Get some white dishes.
In an interview with House Beautiful, Hoefer said, "white dishes call to me." White dishes are traditionally found in French provincial homes and restaurants. They're now being used in many homes as decorating items and useful serving dishes when having guests.
To add white dishes to your space, open up your cabinets and walls and stack your white dishes high. Find white dishes in a variety of shapes and sizes at antique stores, markets, or fun home décor stores. They're everywhere!
Look for quirky objects.
The objects you use around your house and hang in your rooms should have personality. Find elements with spunk and sophistication to add to your rooms.
Hoefer talks about a brass door knocker in the shape of a hand, and a zig-zag corkscrew that's both functional and fun.
Be on the lookout for these fun items. When you find them, snatch them up and put them in your home. Soon your space will come to life with personality too.
Add paintings with dimension.
Hoefer loves her husband, Wade Hoefer's, artwork. He paints cloud paintings for her rooms that are filled with the colors she loves (greens, whites, and blues) and dimension.
Find paintings that speak to you in the same way. Use these paintings to liven your walls and bring new style to your space.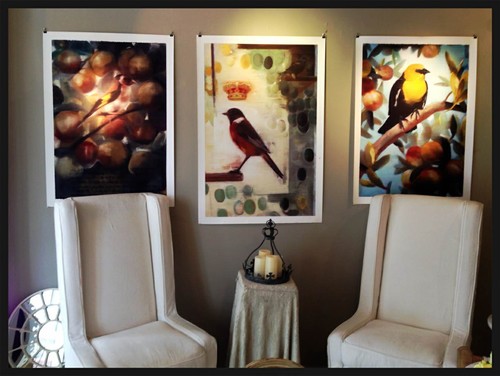 With such simple sophistication, it's easy to snag some of Hoefer's top ideas to incorporate into your rooms. What is your favorite tip?