Dear Bob and Betsy,
Do hardwood floors need moisture barrier if I'm installing them on grade? I've read a lot about how dangerous water is to hardwood floors. I'm planning to install my new flooring "on grade" (not above), which I know is a little bit risky. I feel confident they won't get damaged where I live.
– Susan C.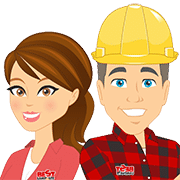 Dear Susan,
You're right. Moisture can do serious damage to hardwood flooring if you're not careful. If you were to install your flooring below grade, we'd caution you heavily against it. However, on grade installations can be safe as long as you're confident that the moisture levels won't damage your floors. We have compiled more information for you to help to decide what's best for you. Cheers! Bob & Betsy
Moisture barriers protect your flooring from below.
You are probably diligent about keeping your house clean and free of standing puddles. You might also have a plan in place for what to do if someone spills on your hardwood floor. Still, you can't always know what's lurking below the surface.
Although you check (and double check, and triple check) your subfloor for damage, such as cracks or dips, before you install, damage can still happen over time. After you've had your flooring for several years your subfloor might get a tiny crack that could let in just the right amount of moisture to harm your floors.
Moisture barriers protect your flooring from below. They keep your hardwood safe even if a little bit of moisture seeps up from the subfloor. This is the type of moisture you won't know is lingering until it's too late.
These benefits sound ideal but should you use a moisture barrier for your hardwood flooring installation? It depends on your subfloor and how you plan to install your flooring.
Installation
If you're planning to nail down your hardwood floors, a moisture barrier is recommended.
If you're planning to glue down your hardwood floors, things get a little trickier. Many solutions today require the use of a trowel spread barrier. Talk to your installers about this before they arrive at your house so you're sure your flooring is protected correctly from below.
If you are installing an floating engineered hardwood flooring, you can use Aquabar underlayment to help control moisture.
Wood Subfloors
Sometimes, a moisture barrier is not recommended. If you're installing your hardwood floors over a wood subfloor, you should avoid using a moisture barrier.
Over time, moisture can get trapped between the moisture barrier protecting your hardwood flooring and the wood subfloor. This can cause the subfloor to warp and rot, promoting mold growth and causing serious damage to your home.
Attached Moisture Barriers to Underlayment
You might also be tempted to use underlayment with a moisture barrier attached. This type of underlayment is great for floating floors, such as some laminate and engineered hardwood flooring. However, it's not recommended for solid hardwood flooring because you will either need to nail or glue down the floors when you're installing.
Did this help? Sign up for our newsletter for other hardwood flooring tips.
Learn More About Hardwood Flooring: