Dear Bob and Betsy,
I'm installing my hardwood floor above grade. Water isn't a big concern and I've researched how to care for my floors so I don't risk damaging them when cleaning. Is it still necessary for me to use a moisture barrier above grade?
– Sean M.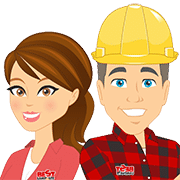 Dear Sean,
No matter how dry your environment is, having a moisture barrier is an important part of your hardwood flooring project. Even though your floor is above grade, it's important you don't leave it out of the equation. Moisture is sneaky. In many cases, you won't realize it's present in your home and wreaking havoc on your flooring investment. For example, moisture can seep in through your subfloor. This is especially true if you're installing over a concrete subfloor. Having a moisture barrier in place lets you sleep easier at night knowing hidden sources of moisture aren't finding their way into your home. We have compiled more information for you to help to decide what's best for you. Cheers! Bob & Betsy
How a Moisture Barrier Works
A moisture barrier offers a layer of protection between the flooring and the moisture vapor. It stops water from reaching your floors, causing them to expand, buckle, or cup.
Many people use this in addition to the underlayment, which cushions the floors. In fact, quite a few underlayment options have a moisture barrier built in. Because you're installing your floors above grade, you do not need the maximum level of protection against moisture (since it's not as high of a risk). You can use an underlayment with built-in moisture without worry.
It's equally important to use the goldilocks rule in underlayment: install just the right amount.
You already know that installing too little underlayment and moisture barrier protection is a risk. Did you also know that installing too much can be equally risky?
Too much material being install underneath your floors can make the joints weaker, causing them to separate.
To find out which type of underlayment is right for you, and how much you'll need, talk to one of our flooring experts. We'll get to know more about your space, the hardwood you're using for installation, and your lifestyle. With that information, we can give you the best recommendation for your home.