Dear Bob and Betsy,
I'm ready to give my entire decorating scheme a refresh. I'm looking for some new styles to bring into my home and I want to start with my floors. How can I choose the right hardwood floor style and color for me? Any tips you recommend? Thanks!
– Angie L.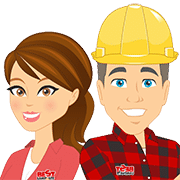 Dear Angie,
Great question! Your floor truly sets the tone for your room. Finding the right style to match your new look is essential. Since hardwood flooring will last you for decades, you want to choose something that's unique to you but not too eccentric that you'll regret your decision a few years from now. We have compiled more information for you to help to decide what's best for you. Cheers! Bob & Betsy
Styles
The first step is to figure out what style you're aiming for.
Contemporary styles call for narrow floor boards. We suggest using 2 ¼" or 3 ¼" wide boards. This will give an instantly unique look to your room with a thinner than average style. Think extremes when it comes to color, either aim for a very dark color or a very light color. There have been stains developed that can make an oak floor look nearly black, which is in for contemporary flooring. We recommend red or white oak natural flooring for it's versatility.
Traditional styles call for average size and coloration all around. For the width, we recommend a 4" floor board. The colors should be rich without overpowering the room. Medium colors are best. We recommend cherry or bamboo flooring for a unique, yet still traditional look.
Rustic styles work well in ranch homes. You'll want to find floors that bring out the unique characteristics of each floorboard. To do this, you should have planks about 5" wide. You'll also want to choose dark, rich colors to show the knots and worm holes, which will give your room and home instant personality. We recommend exotic wood species to bring out the personality.
Heavy Traffic and Well Lit Areas
One thing you'll want to consider, regardless of style, is how much traffic and sunlight your floors will see.
Heavy foot traffic will wear and tear parts of your flooring faster. For example, hallways might fade faster in the middle where most people walk. We recommend having some carpet in high traffic areas to keep any damages to a minimum.
Sunlight can also have an impact on coloration over the years. If your floors see plenty of sunlight you might want to plan on rearranging your furniture and carpets a few times to avoid sun spots from area rugs and furniture.
No matter what you decide, it's important you find the flooring that'll match your overall décor. Consider the fabrics, furniture, and cabinetry you plan to add to your home. These can impact how your flooring looks more so than you might realize.
Did this help? Get more answers to common questions about your flooring needs by signing up for our newsletter.