Dear Bob and Betsy,
Our French doors have been leaking. I noticed this dark stain under the vinyl floor. I'm thinking it's mold. How do I clean mold on vinyl flooring and will I have to replace the flooring?
-Pete H.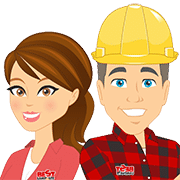 Dear Pete,
Yikes! Mold is never a word you want to see in your home. While mold in your home is not always a death sentence, you should be cautious when dealing with mold on vinyl flooring or any flooring. We have compiled more information for you to help to decide what's best for you. Cheers! Bob & Betsy
Get A Mold Test
In order to find out what type of mold you are dealing with, you should really get the mold tested. This can be done either by purchasing a mold kit from the store or calling in a professional. Some mold can be simply cleaned with a bleach and water mixture, but other molds need to be cut out and the home's air scrubbed. Know what you're dealing with before you start trying to clean up.
Fix the Underlying Problem
Although vinyl floors are resistant to moisture, mold, and mildew can grow if there is standing water around the edges, grooves, or under the floor. If you notice standing water, it is important to fix the cause of the standing water before trying to repair or clean your floors.
For Harmless Mold Cases
If your kit comes back with a harmless, common mold, you can simply clean it up with a bleach and water mixture. Allow the area to air dry completely with the use of fans or an air purifier. Clean off the affected vinyl flooring in the same manner, allow to dry, and then reinstall.
For More Serious Mold Cases
However, it is a more harmful mold such as black mold, simply using bleach WILL NOT kill it. These molds can appear to be killed by using a bleach and water mixture. However, the only true way to get rid of mold is to cut it out.
Before anything, you must stop the leak. Fix this first or there will be more issues with mold and damage in the future. You then must rip out whatever has mold on it and replace it. Dangerous mold can and will cause sicknesses, including vomiting, nausea, and breathing-related problems. Don't take any chances on your health. Cutting out the mold in the subfloor and replacing the flooring is the best way to completely remove the mold from your home. You should then rent an air scrubber for the room to remove any mold spores. Retest the room or home to make sure you have removed all of the molds.
If you have any more questions or concerns, you should leave a comment below and we will help in any way we can!
More Vinyl Flooring Tips: