Dear Bob and Betsy,
I just installed hardwood floors in my house and I love them! They look great, feel great, and give the room a whole new vibe. I'm scared though. I don't want anything to happen to them. I know water is dangerous, so can you tell me how to clean hardwood floors so they don't get damaged?
– Julia G.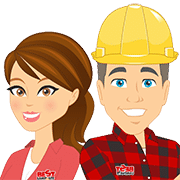 Dear Julia,
You're right. Water can cause serious damage to your hardwood flooring. From buckling to warping, water is considered kryptonite for this popular flooring material. You're smart to be conscientious about using water to clean your floors, but that doesn't mean you have to forever live in dust, dirt, and grime. We have compiled more information for you to help to decide what's best for you. Cheers! Bob & Betsy
Sweep and/or Vacuum
Sweeping and vacuuming gets the bulk of the dirt and debris off your floor's surface. It's recommended that you do this often to prevent your hardwood from scratching or digging into the grains of the wood.
If you vacuum, use a device that does NOT have a beater bar. This makes it difficult to pull up all of the dirt or debris and can sometimes cause more damage than good.
Use a Mop
This might sound like unusual advice, given that we've just told you not to mop your floors, however some mops are acceptable.
We recommend using a dry mop, such as one made by Swiffer or other similar brands. These dry mops clean up nicely with minimal to no moisture required.
If you have a spill (and you will have a spill at some point), don't worry. Clean the spill up quickly using minimal water. Then, go back over it with a dry mop to soak up any lingering moisture. As long as you don't let moisture hang out for too long on your floors, you don't have to worry.
As always, it's crucial that you follow the manufacturer's recommendations for cleaning and cleaning products. Depending on the finish used on your flooring, some chemicals might do more harm than good and should be avoided if you want to protect your flooring.
Hardwood floors are durable enough to enjoy for decades – even after your grandchildren move into your house someday. To keep them looking their best, follow these and the best cleaning practices outlined by your manufacturer and you have nothing to worry about.
Have a question about something specific? Write it in the comments below or call us at 1-800-520-0961!
Learn More: