As time progresses, modern white interiors are growing more and more popular. Magazines are filled with these sleek and organized interiors, and homeowners are becoming very inspired. Unfortunately, many of us are turned off by the price tag. Modern interiors are very expensive and out of reach, right? Wrong! Bestlaminate wants to help inspire you to create your own modern space.
Let The Furniture Inspire You
If you can afford new furniture, great! If you can't don't worry! If you're handy at sewing, you can make your own white couch covers! If you're not so handy, you can purchase a couch cover for much less than splurging for an entire new couch or furniture.
Affordable Ways To Get Modern
It can be as simple as new flooring, a new wall color, and some serious organization. Begin your project by planning out exactly what you want to do.
How much white do you want?
What will the accent color be?
Are we keeping the current furniture or going shopping?
Do you want white flooring or add warmth by using a wood grain?
Once you decide how modern you want to go, your project can begin.
Pick the flooring that suits your project best. Bestlaminate offers flooring from white to black and everything in between – order samples and determine which color will suit your project best.
Oftentimes, white is the color of choice for modern projects as it adds a fresh feel and perfect canvas for further decoration.  The greatest benefit is the fact that everything will match a white floor, so no matter what furnishing or decorations you decide to go with, you will be left with a modern and bright feel.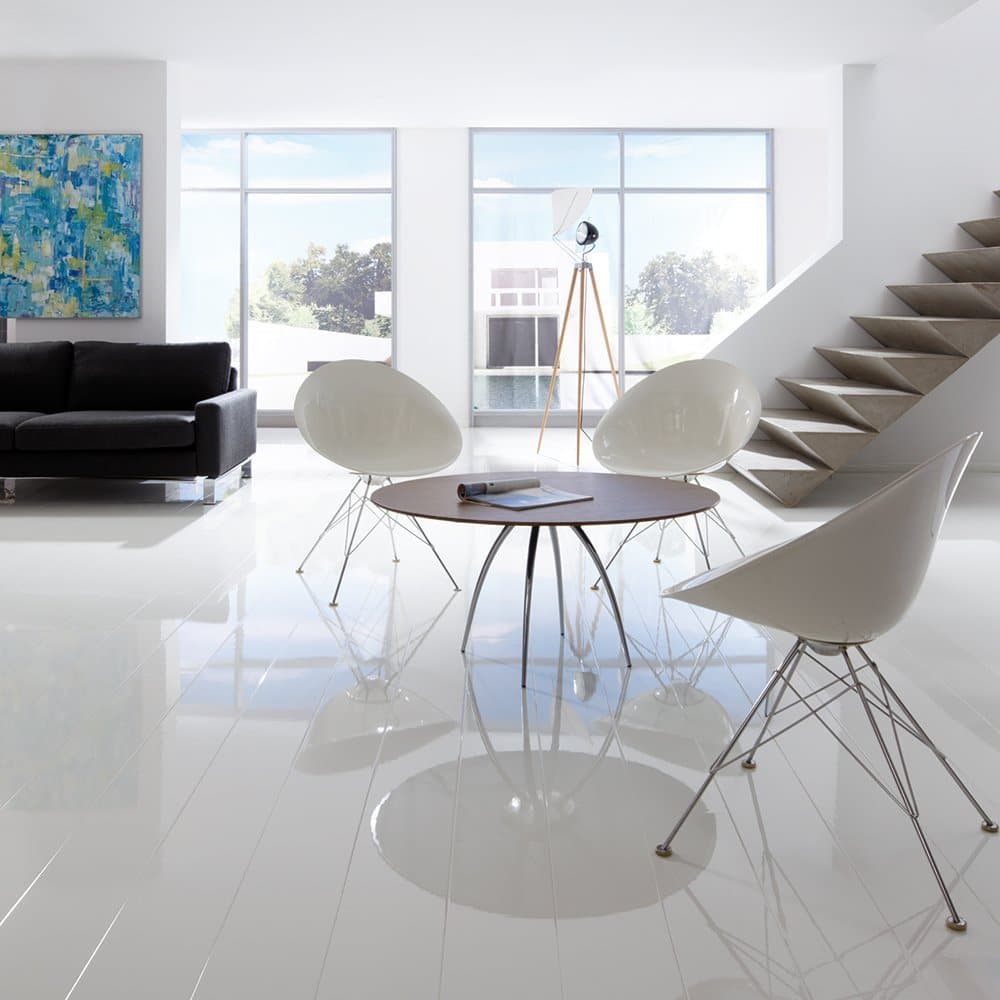 Accent With Color
Once you decide what the right floor is, go on to picking a wall color. A popular modern trend is painting all the walls white except for one wall or area that is painted with an accent color.
This bold touch brings a unique energy to the space. Unfortunately, painting with a particular color limits your decorating possibilities. If you want to have fun with decorating, we recommend painting the walls white or a very light color to act as a canvas.
The flooring and walls are the basis of your modern space. Continue your project by adding furnishings, decorations and accents of your liking.  Remember to keep everything organized and tidy. Modern spaces are known for pristine organization and a fresh feel. Keep everything consistent and simple, and you will end up with the modern white space of your dreams.
Have you already begun a modern space? Tell us all about it in the comments below!
Design More With White: