Dear Bob and Betsy,
Help! I stained my brand new hardwood floors after dropping red wine on them. How do I get stains out of hardwood flooring? I have a special cleaner but it has wax in it. Can I use that?
– Harry L.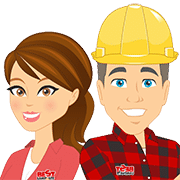 Dear Harry,
Yikes! We hate to hear of brand new hardwood floors getting hurt. The good news is, there is something you can do about it without having to replace your flooring. We have compiled more information for you to help to decide what's best for you. Cheers! Bob & Betsy
You're probably worried about how to clean your flooring because you know the dangers of moisture on hardwood. You cannot soak the stain in hopes that it'll come out. You cannot use excess water to remove the stain. Instead, you must do as the manufacturer recommends.
Listening to the Manufacturer
Check out your manufacturer's recommendations for how to clean your flooring first. Most of them will have a section about how to remove stains specifically.
For the most part, stains are removed by using the manufacturer's recommended cleaning material. This varies depending on the style of flooring, finish used, and other attributes of your flooring so check first.
Using the Right Cloth
You'll also want to have a soft cloth to scrub the floors. This shouldn't be abrasive or you'll scratch the finish on the floors exposing them to future damage. Instead, blot and rub gently over the stain until you loosen up the tinted area.
If necessary, rinse and repeat.
A Word of Warning About Wax Cleaners
You mentioned that you have a special wax based cleaner. This is not ideal for hardwood floors or removing stains. Keep that one on the shelf and reach for the one from your manufacturer instead.
As the proud new owner of a hardwood floor, we'd love to support you in keeping it looking its best. Sign up for our newsletter for more tips on how to care for your hardwood flooring.