Dear Bob and Betsy,
Do I have to worry about formaldehyde in engineered hardwoods? I know it can be found in laminate flooring, but hardwoods are safe, right?
-Elisia P.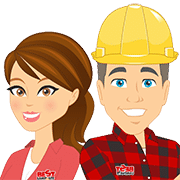 Dear Elisia,
While you don't have to necessarily worry about formaldehyde in your engineered hardwood, you should be aware that there is formaldehyde in your engineered hardwood. We know that formaldehyde in your flooring can sound really scary, but unless the levels are above what the California Air Resource Board determined is safe, you have nothing to worry about. You can easily tell if an engineered hardwood or any manufactured hardwood is up to code by asking seeing if the flooring is CARB2 compliant. We will help you through the process of being informed in your choice of engineered hardwood. We have compiled more information for you to help to decide what's best for you. Cheers! Bob & Betsy
What is CARB2?
CARB2 stands for the California Air Resources Board's (CARB) Phase 2, a stringent standard for formaldehyde emissions from composite wood products, including hardwood plywood (HWPW), particleboard (PB), and medium density fiberboard (MDF). Composite wood products are panels made from pieces, chips, particles, or fibers of wood bonded together with a resin. In the production of engineered hardwood flooring, the plywood core which contains the adhesives that contain the formaldehyde. This is where the emissions concerns come from for engineered hardwood.
Why CARB2?
These standards were set in place after the Air Resources Board (ARB) found that one of the major causes of formaldehyde exposure was from composite wood products containing urea-formaldehyde resins. California requires flooring manufacturers to pass the CARB2 testing for formaldehyde emissions and to label their products as Phase 2 Compliant.
Formaldehyde Risks
The health effects of formaldehyde, a carcinogen, can include sore throat, cough, scratchy eyes, nosebleeds and upper respiratory symptoms. People with asthma, bronchitis, or other breathing conditions are especially sensitive to formaldehyde. These symptoms will only occur though in engineered hardwoods that have abnormally high levels of formaldehyde.
Other Sources of Formaldehyde
You might be surprised that formaldehyde can also be found in other household products. It's pretty common in cigarettes, pressed wood, and particle board, furniture, tissues, air freshener, nail polish, soap, carpet, and more.
What Are The Emission Standards?
We have mentioned that if the levels are above a certain amount PPM (parts per million), your flooring can be dangerous. Below is the standards that CARB2 limits the amount of formaldehyde to to keep you and your loved ones safe.
Composite Core Hardwood Plywood (HWPW-CC): 0.05 PPM
Veneer Core Hardwood Plywood (HWPW-VC): 0.05 PPM.
The U.S. EPA regulates a Formaldehyde Standards for Composite Wood Products Act throughout the nation, which also uses the CARB2 emissions standards. Manufacturers of regulated products must conduct ongoing testing, conduct an initial inspection through a third-party certifier (TPC) and conduct mandated quarterly quality control testing.
Our Products
At Bestlaminate, we pride ourselves with using high-quality European and American manufacturers that have strict safety and manufacturing standards. We take formaldehyde emissions very seriously and we want to assure you that our flooring is safe for you and your family. To ensure you are confident in your past and future purchases with us, we have compiled a list of each engineered hardwood manufacturer along with their emission standards.
Here is a list of our manufacturers and their CARB2 compliance information:
Some of these manufacturers may specify they have a "FloorScore". Please read the link below to see more information on what a "FloorScore" is and how it relates to CARB2 and your indoor air quality and safety.
Floorscore Rating – http://www.scsglobalservices.com/floorscore
What About Solid Hardwood?
If you plan on installing solid hardwood flooring, you don't need to worry about CARB2 and formaldehyde emissions! Solid hardwood is made from all natural wood. There is no plywood or glue that is introduced the manufacturing process. Usually there is a stain and a protective coating added for durability, but that is it! If you would prefer to not deal with formaldehyde emissions in your flooring, this is the perfect option for you!
If you have any questions, please feel free to leave a us a message in the comments below. We want to make sure you're well informed about your flooring choice!
Sources and Resources: