Dear Bob and Betsy,
I love my pets like family members, but they scratch up my hardwood floors. I'm getting ready to install new flooring and want to know – is laminate flooring durable with pets?
– Adrienne L.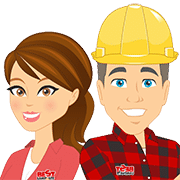 Dear Adrienne,
As a pet owner, you know that it takes a special kind of flooring to withstand all of the potty accidents, tipping over of the water bowls, scratches of the claws, and shedding of the hair. To give your dog a happy home life without ruining your floors, you need a strong material that withstands all of the excitement from your pets. We have compiled more information for you to help to decide what's best for you. Cheers! Bob & Betsy
So, Is Laminate Flooring Durable with Pets?
Yes, laminate flooring is one of the best options available to meet this need. Here's why:
Scratch Resistance – The materials used in laminate flooring are highly durable. They do not scratch, ding, or dent easily. No matter what your pet knocks over or how fast your pet bolts through the door, excited to see you when you come home, the flooring will stand up to the test.
Water Resistance – Laminate flooring is not waterproof, but it is water resistant. If you clean up spills in a timely manner, you reduce the risk of warping your floor or causing your floor damage.
Easy To Clean – Pets often leave the home with a distinct smell. Minimize these odors with easy-to-clean laminate flooring. Simply take a damp (not soaking) mop and glide it over the floors to clean. For an extra deep clean, use a vinegar and water solution. Unlike carpets, laminate flooring will not leave your home smelling unusually bad.
Although laminate flooring can withstand your pet's accidents and spills, it's important to remember that laminate flooring is still a hard floor. Use area rugs and beds to provide your pet a soft place to lie down after an exciting day of play and fun.
Do you have any other questions about pets and flooring? Ask us in the comments below! We would love to answer any questions you have!
Learn More: