Dear Bob and Betsy,
I need underlayment. I got that. Now, what should I look for in laminate flooring underlayment so I make sure to buy the right type for my floors?
– Jon P.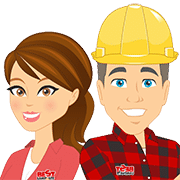 Dear Jon,
When it comes to underlayment options, you have a lot to choose from. It's understandable that things get a little bit overwhelming trying to sort through it all. You want to make the right purchase decision, but where do you start? We have compiled more information for you to help to decide what's best for you. Cheers! Bob & Betsy
Does Your Laminate Flooring Have Underlayment Attached Already?
The first thing you need to look at when deciding what type of underlayment you need is whether or not your floors already have it attached.
Some floors come with pre-attached underlayment to make your installation easier. If you are installing your floors on a wood subfloor, you don't need to buy any underlayment for your project! If your subfloors are cement, you should still purchase a Visqueen Vapor Barrier underlayment to keep moisture away from your floors.
If your floor does not come with underlayment pre-attached, you have a few options to choose from. Your subfloor plays a role in what option is best for you.
For Wood Subfloors
On wood subfloors, there are three types of underlayment you can use:
Good underlayment is the standard 3-millimeter underlayment. It's nothing fancy but it works.
Better underlayment is either the Vapor 3-in-1 silver or Provent Silent Vapor 3-in-1. 3-in-1 underlayments offer a threefold protection – They protect your floors, keep out moisture and reduce sound pollution.
Optimal underlayment is the Floor Muffler Ultra Seal, or Roberts Silent 3-in-1. Each of these have the same threefold benefits as the Provent option, but they work much better.
For Cement Subfloors
When installing on a cement subfloor, you need extra moisture barriers to prevent warping and damage. That changes your underlayment needs.
Good underlayment is Vapor Barrier 2-in-1 or Vapor Barrier 3-in-1 Blue. Either one is effective at keeping out moisture.
Better underlayment is Vapor 3-in-1 Silver or Provent Silent Vapor 3-in-1. These both offer protection against moisture, damage, and sound.
Optimal underlayment is again the Floor Muffler Ultra Seal or Roberts Silent 3-in-1. These have proven to work the best time and time again.
The underlayment you choose is up to you. However, if you plan to live in your house or work in your office building for years to come and want the most protection for your new floors, it's best to go with the optimal underlayment option.
We offer all of these types of underlayment for your project. Browse through our selection and reach out to us using the chat box on our website with any specific questions.
Learn more about underlayment: