Dear Bob and Betsy,
I'm interested in getting new flooring but I have a tight budget. Laminate flooring is on my radar because of how durable it is, but I'm worried about installation costs. How much does laminate flooring cost to install? Thanks!
– Brianne K.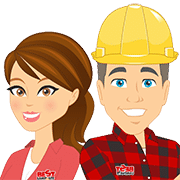 Dear Brianne,
One of the top considerations homeowners make when choosing their next type of flooring is the cost. In addition to the cost of materials, you must judge how much it will cost to have a professional come in and install the flooring for you. That is, unless you want to install the flooring yourself. To save money, many homeowners opt for DIY installation. It is surprisingly easy and can dramatically reduce your project costs. We have compiled more information for you to help to decide what's best for you. Cheers! Bob & Betsy
For a DIY installation, here are the only costs you will have to consider when budgeting:
1. Cost of Materials
The cost of your laminate flooring and the underlayment are unavoidable. No matter whether you have a professional install your flooring for you or not, you will need to purchase the materials. Cost of materials varies depending on what type of flooring you want. Many times you can find high quality, good looking laminate flooring on sale. This can save you even more money on your new flooring project. Once you know what type of flooring you want to install, you will also need to decide on what type of underlayment you need to go along with it. The manufacturers may have recommendations to help you guide your search. We encourage you to use 3-in-1 underlayment because it is moisture resistant and soft to walk on. With that said, you may be able to save some extra money by opting for a different underlayment. If you have any questions while purchasing the materials, please don't hesitate to start a chat with one of our team members using the chat box in the corner of this page.
2. Cost of Tools
When installing laminate flooring on your own, you will need to have specific tools on hand. Many homeowners already have these tools in their garage. If you don't, you may need to invest in them.The most common tools homeowners need when installing laminate flooring is a broom to sweep the sub-floor, tape to hold the pieces in place while installing, and a utility knife to cut the underlayment. Before you begin your project, check your box of flooring. You may need additional tools for installation for your specific flooring type.
3. Cost of Time
Although you're saving money by not hiring a contractor to install your laminate flooring, you still need to take into account the cost of your time. Many people are able to finish their project within a day. If you're concerned, you might want to plan for a few extra days to install your flooring. In any case, take your time into consideration when judging the cost of installation.
When it comes to laminate flooring, cost to install becomes less of an issue because many homeowners opt to do it themselves. While installing your new floors on your own might seem like a daunting task, you might be surprised at just how easy it is.
4. Hiring a Professional
If a DIY installation doesn't seem like the right fit for you, hiring a professional flooring contractor could be a great investment. Depending on your location and project scope, a contractor will charge anywhere from $1.50 to $5+/sq. ft. Be sure to specify if you need help with removal of your old floor, subfloor repair and moldings, as these services may cost extra.
Have you already installed your laminate flooring? We'd love to hear how much you spent in total. Share with us in the comments below!
Check Out Our Buying Guides:
*This post was updated from 2014 to give you a better reading experience!