Here at Bestlaminate, we are often asked many questions about laminate flooring. With so many features to choose from, it can sometimes be difficult to determine which underlayment is the best option for your project. Perhaps your laminate flooring has underlayment pre-attached, what then? Do you need to put any additional layers underneath? Or maybe you have a radiant heating system and would like to know if it is okay to cover it with a foam underlayment. Our flooring experts have put together some answers to these questions. We hope this will help you decide which underlayment is best for your project.
What Is Underlayment?
Put simply, it is a thin foam pad, often made of polyethylene or polypropylene, which is laid on the sub-floor before installing the laminate. Most laminate floors on the market today require an underlayment to be installed. While there are manufacturers who offer floors with an underlayment attached, this is a special feature and is not included in most products.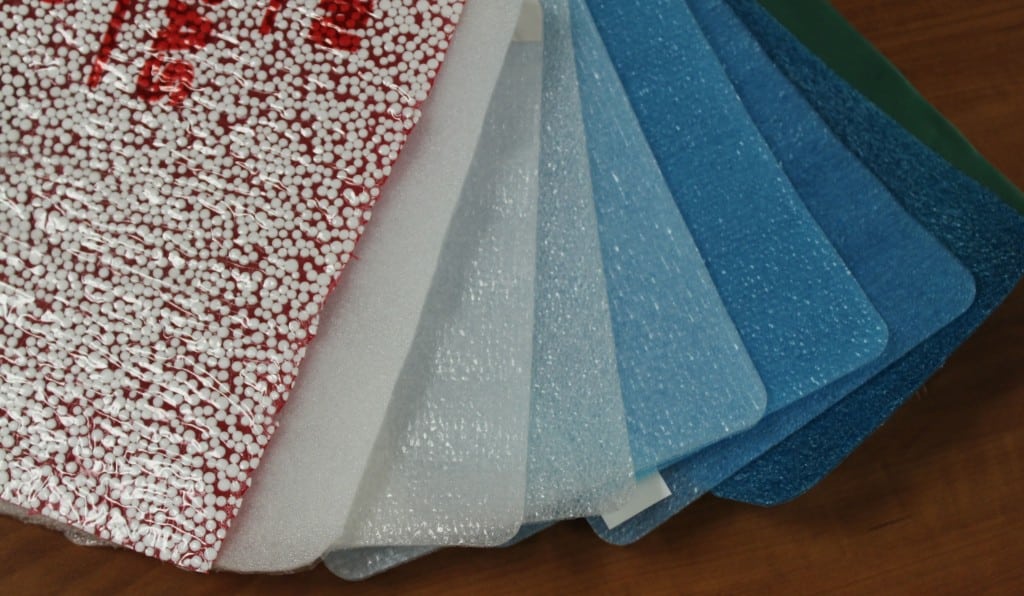 Why Is It Necessary?
Having underlayment underneath your laminate flooring is essential, because it allows the floor to float. Laminate flooring is not nailed or glued down, so it needs some form of support. Think of it like a large jigsaw puzzle, which will be expanding and shifting as the climate changes. To avoid any damage due to friction between the laminate and your sub-floor, the underlayment must be laid first to give the laminate a smooth surface on which to float.
Which Underlayment Should I Use?
While the concept of underlayment seems simple enough, all laminate underlayments are not created equal. Different manufactures offer many different features, which can enhance the feel and performance of your laminate floor. To help you figure out which underlayment will meet your needs, we have put together some more information on the underlayments that we offer. Before reading on, first ask yourself these two very important questions:
1. What Is Your Sub-floor?
If you are installing laminate over a concrete sub-floor, it is very important that a vapor barrier is used to prevent any possible damage due to the moisture released by the concrete. This is simply a sheet of thin plastic material, like Visqueen Vapor Block, that will stop any moisture from being absorbed into the laminate core. Many of the underlayments from Bestlaminate offer 2-in-1 or 3-in-1 underlayments, which include a vapor barrier as well as padding. This saves you the time and money associated with installing a separate vapor barrier.
2. Is This A Second Floor Installation?
If you are installing your laminate floor in an apartment, condo, or on the second floor of your home, you may want to consider an underlayment that offers noise reduction. Many apartments and condo associations require a minimum sound rating from the underlayment. While laminate flooring is quiet to walk on, noise can easily be transferred to the floor below without the proper underlayment. Choose an underlayment, like Floor Muffler or Roberts Super Felt, that gives a high sound reduction rating.
What If My Laminate Has Pre-Attached Underlayment?
If your laminate flooring already has underlayment attached, you would not use another underlayment. Adding extra padding can cause your locking system on your floors to break because there is too much cushion. The underlayment attached is meant to save you time from installing underlayment. However, if you are installing above a concrete sub-floor, you should install a thin vapor barrier that does not have extra padding to keep moisture from damaging your floor.
Important Underlayment Terms
When reading the specifications of underlayment, you may come across terms like IIC and R-Value. These terms may leave you scratching your head. But don't worry! Here are the most common underlayment terms explained!
STC & IIC
While looking at underlayment for your laminate floor, you may come across STC/IIC with a number next to them. What exactly are these and what do they mean? Put simply, these are ratings that tell you how well the underlayment will dampen sound. The higher a number is following these letters, the less noise will be transmitted. The effect of this is mostly noticeable in rooms underneath the room in which the underlayment and laminate are installed. This is why many apartment buildings, commercial offices buildings, and condo associations require a minimum rating where sound is concerned.
The Sound Transmission Class (STC) and Impact Isolation Class (IIC) ratings are measured in decibels reduced for certain types of sound. The STC rating pertains to airborne noise, such as voices, radio, television, etc. The IIC rating measures impact sounds, such as footfalls, dropped objects etc. The transmission of these sounds through floor/ceiling assemblies (such as those found in multi-level homes and apartments) will be inhibited by underlayments with higher STC and IIC ratings. The International Building Code (IBC) states that all multi-family buildings must have a minimum sound insulation rating of STC 50 and IIC 50.
Thermal Ratings
In addition to the STC and IIC ratings, some underlayments may also have a thermal rating, or R-value. This refers to the underlayment's ability to conduct heat. The higher an R-value is, the less heat will move through it. Many homeowners prefer an underlayment with a higher R-value to keep their feet warm in the winter months, however, if you have any kind of radiant heat system, a high R-value can inhibit its effectiveness.
R-values are measured in ft2*°F*hr./BTU, where °F is equal to the difference in temperature (in degrees Fahrenheit) between one side of a material and the other. An underlayment which has a value of 3 ft²*°F*hr./BTU will typically be represented as R-3. To put this in perspective, the typical R-value of a bat of fiberglass insulation is R-3 to R-5. Many polyethylene foam products have an R-value of 2-3, such as laminate flooring underlayments.
The Different Types Of Collections
Basic Underlayments
First up is our series of basic underlayments. These are the most simple, cost effective underlayments we offer at Bestlaminate. All three of the basic underlayments are suitable for most installations, though they do not offer many features. These are the most popular choices with contractors, due to their low price and effectiveness in allowing the laminate floor to float.
Standard Underlayment
The most basic option will be the standard underlayment. This is a great option for installing over plywood or oriented standard board (OSB) sub-floors, where a moisture barrier is not required. The Standard Underlayment will absorb minor imperfections in the sub-floor, giving your laminate floor a smooth, even surface on which to float.
2-in-1 Vapor Underlayment
Bestlaminate's 2-in-1 Vapor Underlayment is another great option for basic installations. Made from the same low-density 3mm polyethylene as our standard underlayment, the 2-in-1 has the added protection of an attached moisture barrier film. This makes it a safe choice for installing your laminate floor over concrete sub-floors. Like the Standard Underlayment, this material will fill minor imperfections in the sub-floor, giving your laminate floor a smooth, even surface on which to float.
3-in1 Vapor Underlayment
The third option in Bestlaminate's series of basic underlayments is the 3-in-1 Vapor Underlayment. Another polyethylene foam, this one is only 2mm thick, making it better to use under thinner planks. Unlike the Standard Underlayment and the Vapor 2-in-1, the 3-in-1 comes in pre-packaged rolls of 100 ft². This underlayment also has the vapor barrier attached to it, and has the added feature of an adhesive strip.
All of these underlayments are low density polyethylene. While none of them have been subjected to sound or thermal testing, they do offer some sound reduction, and are suitable to use over radiant heating. The Standard Underlayment and 2-in-1 Vapor Underlayment do not come in pre-packaged rolls, and can be cut for custom orders, making them a great choice for anyone who does not want to purchase an extra roll to get that few extra feet2.
Silent Collection
Next up is our series of silent underlayments. These are the next tier up in underlayments that we offer at Bestlaminate. All five of these silent underlayments are suitable for most installations where sound dampening is key. Some of these underlayments also have vapor barriers attaches, so be sure to look for these as you will get more bang for your buck if you're installing over concrete subfloors. These are the most popular choices for people living in multi-family homes or apartments, or those who don't want to hear their children banging around upstairs.
3in1 Silent Vapor Barrier Underlayment
If you're looking for something that will help to muffle sound, but won't break the bank, the 3in1 Silent Vapor Underlayment by Feather Step™ is a great option. This incredibly durable underlayment is a 2mm, cross-linked polypropylene, giving it a higher density than the open-cell polyethylene foam underlayments. Because of this, the Feather Step™ Vapor 3-in-1 absorbs sound and offers enhanced moisture protection. The attached foil moisture barrier works in conjunction with the foam itself to ensure that your floor is protected from any vapor given off by the sub-floor, and includes an adhesive strip for easy installation.
ProVent Silent Vapor Barrier Underlyayment by Kronoswiss®

ProVent Silent Vapor Barrier Underlayment is one of the best values where laminate flooring underlayment is concerned. This polyethylene foam is 3mm thick and comes in pre-packaged rolls of 215 ft2. An attached vapor barrier protects against moisture, but it doesn't stop there! ProVent underlayment is specially designed with micro ridges that, when walked on, actually pump moisture out to the sides of the room to vent out moisture. This underlayment is a great choice for any job – basements, first or second floor, apartments, condos, you name it! The Kronoswiss® ProVent can be installed over any type of sub-floor, and will absorb minor flaws, giving your laminate the proper surface to float.
Roberts® First Step ™
The First Step™ underlayment from Roberts® is one of the most popular choices in the laminate industry. Another great option for muffling sound, the Roberts First Step has an air flow layer which is similar to the Kronoswiss® Pro Vent. Polystyrene beads are substituted for a foam pad, allowing air to move freely through the underlayment to vent- preventing harmful mold and mildew build-up. This patented design also allows heat to be easily conducted, making this an excellent choice for sub-floors with radiant heat systems.
Floor Muffler® Ultra Seal
The Floor Muffler underlayment is the top of the line for sound reduction, with the highest STC/IIC ratings on the market. This makes it the number one choice for multi-family buildings around the globe. Similar to the Feather Step™ vapor 3-in-1 underlayment, the Floor Muffler® is made of a cross-linked polypropylene to give it more density. This directly contributes to its ability to cut down on unwanted noise. This also helps to block moisture, though it does not have a vapor barrier attached. The density of the Floor Muffler® underlayment keeps out any vapor released by your sub-floor, making it a safe choice to install over concrete subfloors.
Roberts Super Felt Premium Underlayment
Roberts Super Felt Premium Underlayment provides you with a superior sound dampening effects, insulation, and vapor barrier. This is superior choice for installation of laminate and engineered wood flooring. This underlayment is available in convenient rolls containing 100 square feet each. Durable and easy to install, comes with a tape strip to easily seal the rows of underlayment together.
Other Products
Visqueen – Vapor Block PE Film
Visqeen PE Vapor Block PE Film is not an underlayment, but simply a vapor barrier sheet that may be used as on concrete sub-floors. This is the perfect option if you are laying a floor which has a pre-attached underlayment on a concrete slab or any other stone floor where there is potential for moisture.
How To Select Laminate Flooring Underlayment
Installing Underlayment
Each underlayment is a little different and has their own manufacturer instructions. You must read the instructions to fully get an understanding on how to properly install. We've prepared a variety of installation tutorials that will give you graphical step-by-step guides on how to install your underlayment.
View them here: Flooring Underlayment Tutorials
Final Thoughts
Below is a table with the specifications for all of the products listed above. Remember, not all of these products are subject to all of the same tests for sound or heat conductivity. Remember what to consider when choosing your underlayment- do you need something that is going to protect the laminate floor from harmful vapors? Or are you just on a plywood sub-floor and don't need any special features? While higher R-values and sound ratings are appealing, they aren't always necessary. We hope this will help you in your search for the right underlayment for your laminate flooring project.
| | | | | | | | | |
| --- | --- | --- | --- | --- | --- | --- | --- | --- |
| | Standard | 2in1Vapor | 3in1Vapor | FeatherStep | Provent | Floor Muffler | Roberts | Visqueen |
| Width | 40" | 40" | 46" | 45" | 40" | 40" | 40" | |
| Contents | 1720ft ²* | 1720 ft²* | 100 ft² | 100ft² | 215 ft² | 100 ft² | 100 ft² | 100+ ft²* |
| Thickness | 3mm | 3mm | 2mm | 2mm | 3mm | 2mm | 3mm | 6mil |
| STC/IIC (db) | NA | NA | NA | 65/64 | 67/71 | 73/74 | 67/68 | NA |
| R-Valueft²*°F*hr/BTU | NA | NA | NA | NA | 2 | 3 | 2 | NA |
| Tensile(psi) | NA | NA | NA | NA | NA | MD≥125 TD≥100 | NA | NA |
| Tear(lbs/ft) | NA | NA | NA | NA | NA | MD≥300 TD≥370 | NA | NA |
| Adhesive | No | No | Yes | Yes | No | Yes | Yes | No |
| Vapor barrier | No | Yes | Yes | Yes | Yes | Yes | Yes | Yes |
* rolls are cut for custom quantity
Do you have more questions? Simply post it in our comments area. We will be happy to answer them all!
Learn More: