Dear Bob and Betsy,
I just got my new flooring and I'm so excited to install it, but I'm worried I'll do something wrong. Do you have any tips for how I should prepare for a laminate flooring installation? Any help you can give is appreciated. Thanks!
– Pamela C.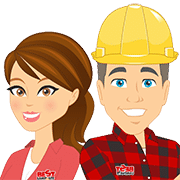 Dear Pamela,
First of all, congratulations on your new flooring! Putting in new floors can change the look of your home. Fortunately, installing laminate flooring isn't hard. Here are some of our top tips to make your installation project a little bit easier and keep things moving along stress free. We have compiled more information for you to help to decide what's best for you. Cheers! Bob & Betsy
1. Let the floor acclimate.
Before you install your flooring, let it acclimate in your home. Usually this takes about two days. Follow the manufacturers instructions for the specifics about temperature and humidity level when acclimating your floors. In general, the climate should be mild in your house – not too hot, not too cold, and not too humid.
2. Inspect your flooring before installation.
Take out each plank and inspect it before you start your installation. If something went wrong during shipping and too many of your planks are damaged, you should not begin your installation project. Damage during shipping is extremely rare but it does happen.
3. Keep your extra pieces handy.
You should plan to keep a partial box of your laminate flooring just in case something goes wrong. If your floors get damaged for any reason, you'll want to be able to easily uninstall, replace, and then reinstall the damaged planks. This way, you won't have to completely replace your entire floor.
4. Learn how to lay down your underlayment and laminate flooring together.
Along with your laminate flooring you should have received underlayment. Go through the instructions for how to install this underlayment before you begin your installation project. Often you will install both your laminate and your underlayment at the same time. Knowing how to do this will make your project much smoother and easier for you.
5. Keep the humidity at bay.
If it's particularly humid on the day of your installation, it might make things a little bit trickier. Try to keep your indoor temperatures warm (we suggest between 60 and 80 degrees) and your humidity low (no higher than 50%!) This will make your flooring installation last longer.
Do you have any other questions? Feel free to reach out to our team of flooring experts any time during your installation! We're always happy to help.