Dear Bob and Betsy,
I'm hosting quite a few visitors this year, including my new grandson and his family. I just finished installing new laminate floors a few months ago and I'm worried they'll get damaged with all the commotion. Do you have any tips for protecting your floors during the holidays? Thanks!
-Amy K.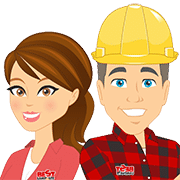 Dear Amy,
How exciting about the family coming into town! As with any full house, you're up against a risk of unintentional damages and scratches to your new floors. To help you keep them safe, here are a few of our favorite tips. We have compiled more information for you to help to decide what's best for you. Cheers! Bob & Betsy
Have a Plan of Attack for Spills
Spills are bound to happen with little ones around. From ground up cereal to sippy cups being tossed around the room, your floors are sure to get broken in.
In spite of the extra tests and trials, you don't have to worry about damaging your floors long-term as long as you have an action plan for spills.
Create a kit and let your family members know about it. This kit will include a dry mop to wipe up any water, liquid, or crumbs. If you're using special laminate floor cleaner, include that in your kit too. Advise your family to avoid cleaning with excess water and always clean spills as quickly as possible.
Put a Skirt on It
On your tree that is! If you're having a real Christmas tree in your home this year, make sure you keep your floors safe from falling dry needles and the inevitable overwatering. The more you can keep these off the floors, the better.
Leave the Outside, Out
If you live in a snowy climate, make sure it doesn't get tracked across your brand new floors. Set a rule to have everyone take off their snow boots or shoes every time they come into the house. Put a rubber mat in the entry for shoes and a mat in front of the door, both inside and out. This way, you'll avoid having puddles of melted snow gather on your floors or mud clumps dirtying your beautiful home.
Protect Your Furniture's Feet
This time, more so than any other time of year, relatives will be shuffling your furniture to make room for the guests. When they do, your floors could get scratched if you don't protect the bottom of the feet. Put felt pads on the legs of your furniture or on your furniture's feet. You can also encourage your family members to use a carpet to help move furniture so you avoid the risk of scratching your new floors.
Your family members will never intentionally damage your floors. With a little bit of planning and communication you can keep your floors damage free this holiday season.
Learn More: