It's what top decorators are trying these days – shabby chic décor. This popular interior design style is homely and relaxed, and then offset by chic accents to make your small living room decorating decor look stylish and smart.
When it comes to small spaces, shabby chic is not exactly easy to implement. You don't want your small space to look cluttered, but you do want to make it comfortable. To help you create a space you'll love to lounge in, here are a few tips to fill your small living room with shabby chic accents that'll pop!
Start with the flooring. The floors in your living room make a bold statement. They define the vibe of the room, so they are a natural place to start your redesign. Shabby chic flooring has a slightly worn and slightly rustic look. Without adding any décor, it can immediately change the look and feel of your space.
Bring in natural accents. Flowers add pops of color around your room without cluttering your space. Go antiquing to find inexpensive old pitchers to use for a vase. Add the flowers to these for an instant fresh, vintage look.
Eclectic Living Room by Other Metro Media & Bloggers Dreamy Whites
Replace your wall art. In addition to the flooring, the wall art also sets a strong tone for the look and feel of your space. While at the antique shops, look for old pictures of flowers or landscapes. If you have trouble finding floral pictures you love, try buying and framing panels of your favorite fabric.
Ruffle up those curtains. Highlight your small living room windows with ruffled, lacy curtains. Find colors to match your wall art to bring the room together. If you can't find ruffled curtains, try pulling standard curtains off to one side to give it a romantic, warm look.
Accent your furniture with throw pillows. Throw pillows are an easy addition to your living room. They add a pop of color and design without taking up extra space. Add warm, light colored throw pillows to accent your wall hangings and curtains, tying the whole room together.
Add the perfect lighting. To finish your shabby chic living room off on a high note, find the perfect lighting. Choose light white lampshades to brighten up your space with a warm glow.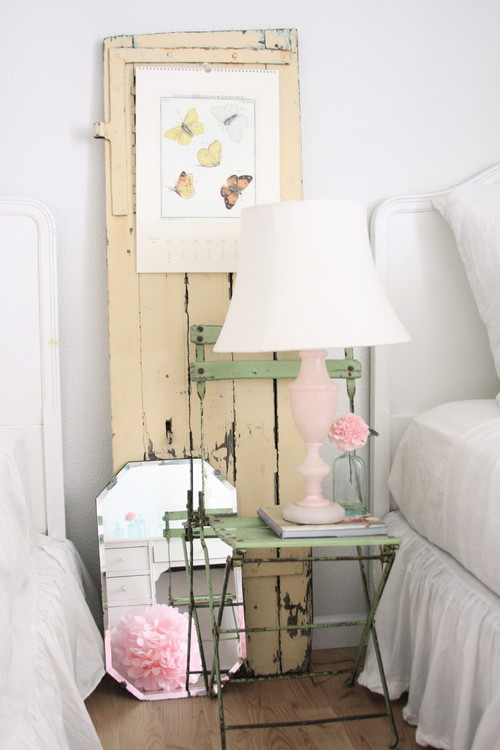 Shabby chic is a popular decorating choice because it is easy to implement and inexpensive to find perfect accents. Even in small spaces, this decorating style gives your living room a cozy glow.
Do you have any shabby chic decorating tips you love? Share them with us in the comments!