Dear Bob and Betsy,
I would like to know if we should install laminate flooring before or after installing our new kitchen cabinets? We reside in FL where temperatures fluctuate less than other areas and the a/c is usually on all year. Would that solve the expansion/contraction concerns that leads to possible buckling. We realize that putting down the laminate after the kitchen is re-done probably is recommended, however then there is the problem of the dishwasher getting trapped in (for removal/repair), stove & refrigerator being different heights, with all 3 appliances affecting cabinet & counter height to make everything even. But then, if we put down the laminate first, how could we remove the planks if there is possible water leaks from refrigerator water line or dishwasher. We are so confused. Your thoughts on this " dilemma" would be appreciated.
– Scott S.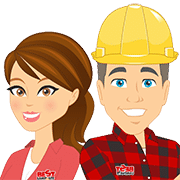 Dear Scott,
You're right! With so many pros and cons for both sides, this often feels like a dilemma during kitchen remodels. This is a big project and you want everything to turn out perfectly. There are a few risks with installing your shelving and appliances after your laminate flooring. These include the expansion and contraction risk you referenced, and the length of the strips. We have compiled more information for you to help to decide what's best for you. Cheers! Bob & Betsy
Expanding and Contrasting
You mentioned that your house is fairly consistently acclimatized with your air conditioning running year round. Living in Ohio, we're jealous of your warm weather, but we digress.
Even though your home is acclimatized, your appliances hinder the natural expansion and contraction process. With a heavy cabinetry on top of your floating laminate floor, it's harder for the wood to move naturally.
Cutting the Strips
The good thing about laminate flooring is that it's easy to repair. If it's damaged, you can replace a small section without having to replace all of your flooring.
When you place your laminate flooring strips underneath your cabinetry, you make the process more burdensome. Appliances can be moved but your shelving and counter top infrastructure cannot.
The Answer to Your Dilemma
The best way to accommodate your floors, shelving and appliances is to work in this order:
Install your cabinetry and shelving space first.
Install your flooring.
Add your appliances.
It might make the measurements a little more difficult, but it's worth the extra calculation effort. This way, if you need to remove any of the planks due to water damage as you mentioned, you won't be held back by having your shelving unit installed on top of the flooring.
If you're determined to install the flooring first, use a piece of plywood as a filler piece. Avoid installing the flooring in that area to account for the shelving unit. This is a more difficult way of doing it, but it'll give you the best life out of your floors. Don't forget to leave yourself a quarter inch gap from the wall to allow for the expansion and contraction.
More laminate installation help: