Are you looking to decorate and organize your kids' bathroom but dreading the overload of Disney, super heroes or cartoons? Avoiding a fight between siblings who can't decide between a princess or SpongeBob Squarepants theme?
You do a lot to keep your children happy, but you don't need to indulge in requests that will change in a few months anyway. There are many great ideas for kids bathroom décor your entire family will love.
Here are a few ideas to get you started.
Don't Be Afraid of Color
A kid's bathroom can still be fun and playful without incorporating their favorite characters. This will last longer and keep them happier, minimizing the amount of extra work you need to add to your plate.
Use your children's favorite bold bright colors. Paint the small space a fun color and add a coordinating shower curtain, wall art, and bath towels to make it pop.
Need a little extra color inspiration? Try choosing themes that are timeless such as under the sea, nautical modern, or chic.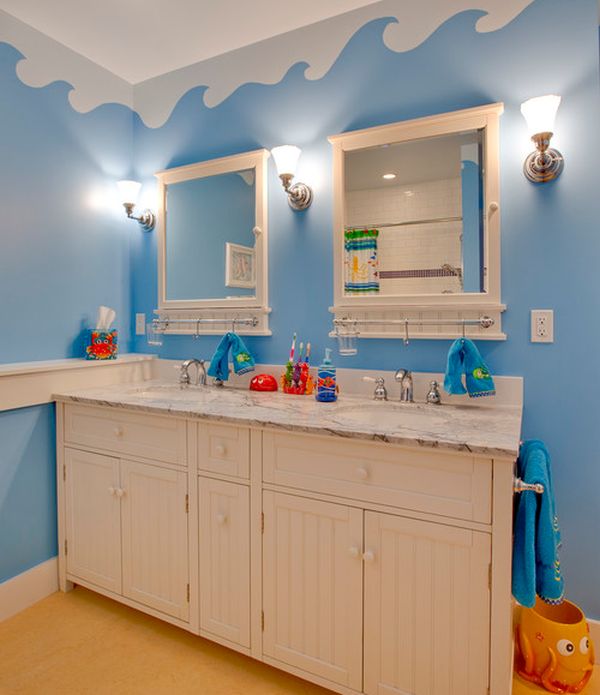 Decorate and Inspire
Fun, colorful, and inspirational artwork make great additions to any bathroom. They're a cost effective way of adding style to your space. For example, pictures that say "Wash Your Hands" or "Wash Brush Floss Flush" can serve as gentle reminders of bathroom tasks while adding color and style.
You can also get the kids inspired by including them in the bathroom decorating process. Start by letting them help choose the theme or colors so that they'll feel ownership in the space. Then let them create some of the artwork. You can let them draw something and seal it to a canvas or help them create hand print paintings on canvas (such as a hand print fish or crab for a sea theme).
Organize
A kid's bathroom can turn to chaos quickly if you don't get a handle on organizing it up front. Here are some ideas on how to organize this small space:
Use a different mason jar for each kid and use adhesive letters to spell out their names on each one. These can then be used to hold their individual toothbrushes, toothpaste, small mouthwash, and floss.
Instead of a towel bar, use towel hooks. You can have a hook for each kid and put their initial above (or numbers for birth order) to avoid any confusion in which towel is theirs.
If you don't like the mason jar idea and have drawer space, you can use kitchen drawer organizers to hold the various tooth brushes, toothpaste, floss and anything else small.
Create a bath toy organizer in the tub to reign in the bath toy clutter.
Maximize the under the sink storage space with stacking plastic bins or a sliding shelf.
Create over the toilet shelving for additional storage space.
Do you want more tips on how to turn your home into a fun, friendly zone? Sign up for our newsletter!