Dear Bob and Betsy,
I am looking into vinyl flooring for rental properties I own. I want a flooring that will be more durable than hardwood, and not hold onto odors and stains like carpet. Could you help me decide if vinyl flooring for rental properties is a good idea?
– Derrik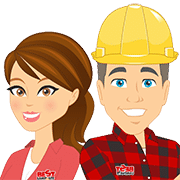 Dear Derrik,
Vinyl flooring is a great option for your rental! Vinyl flooring is perfect for homes and rental units for a variety of reasons. We're happy to help weigh the pros and cons of having vinyl flooring in your rental property! We have compiled more information for you to help to decide what's best for you. Cheers! Bob & Betsy
The Best Vinyl Flooring for Rental Properties
In truth, a rental is no different than a residential installation. This means that there is no "special rental" vinyl flooring. What you may want to consider is the durability of the flooring. Your floor will last much longer if you purchase a vinyl flooring with a higher wear layer. A vinyl floor with a wear layer of 0.5mm will last much longer than one with a 0.10mm wear layer. Having the added durability will save you money in the long run, should unruly tenants attempt to destroy the flooring. And don't confuse thickness for durability. The thickness of the vinyl flooring only adds to the stability of the flooring. If you have a thin plywood subfloor, opt for a thicker vinyl. If you're installing over concrete, you can most certainly install a thinner vinyl flooring.
The Pros
1. Vinyl is Waterproof
You won't have to worry about tenants spilling liquids or pet accidents in your rental homes again! You should still wipe up spills within a timely manner, as there's still a chance that the water can seep down to the subfloor, but the planks themselves should not warp or buckle the same way hardwood or laminate would.
2. Vinyl is Anti-Slip
This is really great for those who are renting to elderly or families with young children. Most vinyl flooring is anti-slip to help prevent nasty accidents from happening!
3. Vinyl is UV Resistant
Windows aren't UV protected? No problem! Vinyl will not fade with sunlight, like hardwood will. So you won't need to worry about previous tenants furniture leaving unsightly sun-blotches on the floor.
4. Different Installation Options
There are three different options to installing vinyl plank flooring; click-lock, glue-down, or loose lay. If you're worried about the possibility of replacing planks due to excessive damage, consider loose lay or click lock vinyl flooring. Keep a spare box handy for instances like these, and you won't have to replace your rental flooring for decades! If you're worried about moisture, consider glue-down. You will glue this flooring directly to the subfloor and not have to worry about moisture seeping beneath!
5. Vinyl is an Affordable Option
Vinyl flooring price starts below a dollar per square foot, making this an affordable option for rental properties!
The Cons
1. Vinyl Can Be Loud
There's not a lot you can do as for underlayment or padding for noise dampening properties for standard vinyl flooring. There are some LVT underlayment options for vinyls 4mm or thicker. For sound reduction, we'd recommend going with a WPC or thicker vinyl that either has an underlayment attached or could use one.
2. Vinyl is Not Very Thick
Vinyl isn't as thick as laminate or hardwood flooring. This can be a problem if your subfloor isn't very sturdy. If you're looking for a sturdier vinyl option, you could opt for a WPC vinyl, which is generally over 5mm thick.
3. Vinyl isn't Hardwood or Tile
While vinyl flooring is made to look like hardwood or tile, it is made of virgin vinyl, a plastic-like substance. It does feel different than a hardwood or tile flooring. It might not be a huge deal for you, but it could make your rental look cheap if the vinyl you choose is of low quality.
4. Vinyl is Not Indestructible
Vinyl can be punctured and nicked by sharp objects. High heels and sharp knives can harm this flooring if enough pressure is applied. But, no floor is indestructible, just keep this in mind when choosing your floors!
The choice is up to you! Vinyl really is a great choice if you're looking for a hardwood or carpet alternative that's low-maintenance and can last for decades!
Have more questions regarding rental units and vinyl flooring? Write to us in the comments below or at [email protected] and we will be happy to help you!
More About Vinyl Flooring: