Dear Bob and Betsy,
I'm excited about getting new floors in my living room! I've narrowed down my choices and I'm just about ready to buy. What are the best questions to ask before buying laminate flooring?
– Mark W.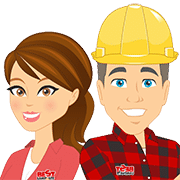 Dear Mark,
Buying new flooring is both exciting and a little bit scary. You want to make the best choice for your home, budget, and long-term comfort, but how? Asking smart questions before you buy your laminate flooring is the best way to know that the purchase you're about to make is the right one for your home. Here are some of the questions we recommend asking before you buy any new type of flooring. We have compiled more information for you to help to decide what's best for you. Cheers! Bob & Betsy
How much will I need to do to prepare my subfloor?
Preparing a subfloor doesn't have to be labor intensive or costly.
Before you install your flooring, make sure your subfloor is level. Look for any cracks, bumps, or swelling in the floor. If you see any, make sure they're fixed before you start the installation.
When the foundation is ready, all you need to do is sweep away debris and dry the floors of any moisture. Because laminate can be installed on concrete or wood, you don't have to worry about ripping out old materials or paying for demolition.
How soon can I install my flooring?
It's understandable that you're excited about installing your new flooring, however we encourage you to wait at least 48 hours. That's how long it takes for your new floors to become acclimated to the humidity in your home. During this time they'll stretch, expand, or shrink. It's better to have that happen while the flooring is still in the box rather than after it's installed.
Do I need to allow extra room for my flooring to expand after I install it?
The manufacturer of your flooring will suggest an expansion space. This is the space that you should leave to allow extra room for your flooring to move after installation. Follow this advice to avoid your floors buckling or cracking. To hide the unsightly expansion space, use floor boards.
Do I need underlayment?
Yes! Underlayment works to protect your flooring from damage and moisture. If you get 3-in-1 underlayment, you'll also have a noise barrier that protects against the hollow sound that can sometimes resonate while you're walking.
Laminate flooring is one of the easiest types of flooring to install on your own. Still, it requires some skill and the right tools. Ask yourself or our flooring experts these questions before installing your floors for the best results.