Dear Bob and Betsy,
I'm trying to find the right flooring for my home and I keep seeing "ac ratings" on each product. What does an ac rating mean and why is it important for my flooring?
– Joshua C.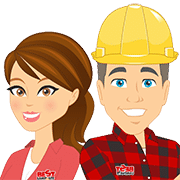 Dear Joshua,
The flooring you choose for your home is an important decision. You want something that's affordable, but more importantly, you want something that will last for the long haul and stay looking great for years to come. The AC rating helps with that. We have compiled more information for you to help to decide what's best for you. Cheers! Bob & Betsy
What Does an AC Rating Mean?
The European Producers of Laminate Flooring (EPLF) created standards for laminate flooring manufacturers. One of the standards was the Abrasion Rating System (AC rating). To determine the rating, each laminate flooring type, style and brand will go through a series of tests. From that, it will be marked with an AC rating.
This rating shows the quality of the flooring. Here is what each of the ratings mean:
AC1 laminate flooring is perfect for areas without a lot of foot traffic, such as guest bedrooms or home offices.
AC2 laminate flooring can take on a little bit more foot traffic, but not much. It's great in master bedrooms, living rooms, and dining rooms.
AC3 laminate flooring is ideal for medium amounts of traffic including hallways or small offices with some, but not a lot of foot traffic.
AC4 laminate flooring is tough enough to be used in small shops or offices. It can withstand quite a bit of abuse so it is often placed in areas with moderate foot traffic.
AC5 laminate flooring is the strongest of the ratings making it ideal for areas with very heavy foot traffic, such as large stores and shopping centers.
For homeowners, the ideal type of laminate flooring is that with an AC3 rating. This will withstand quite a bit of abuse without dulling or getting damaged. If you have pets, children, or frequently host parties at your house, you might consider an AC4 rated floor. The higher quality of flooring in this rating will ensure that your busy home does not cause your new floors to get damaged and worn out too fast.
If you have more questions, please write them in the comments below or contact us at [email protected]! We would love to hear from you!
Learn More: