Dear Bob and Betsy,

I have a cabin that I use off and on throughout the year and we're looking to make a few upgrades. The cabin is not temperature regulated when we are not there. What is the best floor for this type of usage?
– Ron G.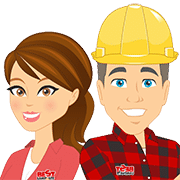 Dear Ron,
That is a great question! We often don't think about how temperature affects our flooring, but it can lead to major issues. Humidity and drastic changes in any wood-based flooring, such as laminate or engineered hardwood, can leave you with gaps and/or buckling planks. We have compiled more information for you to help to decide what's best for you. Cheers! Bob & Betsy
For a cabin that is not temperature regulated, we would recommend a vinyl plank floor. Vinyl planks are a synthetic material that are waterproof and do not shift with temperature change. This flooring is also anti-slip, scratch resistant and affordable.
Most indoor vinyl floors will only have a warranty that covers temperature controlled spaces. If you are concerned about upholding a warranty, you will want to look at vinyl options that are suitable for indoor and outdoor usage.
Vinyl plank flooring is easy to install and comes in a variety of looks, such as wood, tile and stone. Find a rustic look with a hand scraped texture or a subtle stone look to match your cabin's appeal.
You can choose from a floating vinyl plank, a glue down vinyl plank, loose lay vinyl floor or a sheet vinyl. With a glue down, you'll experience the least amount of movement with a long lifespan. This can be a quick project that creates a beautiful look for years.
If you're looking for a soft surface, carpet could be a good option for you. However, it will not be waterproof, can be easily stained, and harbor dust and allergens.
Learn more about vinyl flooring here:
We hope these tips were helpful! If you have any more questions or comments about flooring for a cabin, write them in the comments below!