Dear Bob and Betsy,
We have a large beach house that we are renovating in MD that is on a canal. We were going to go with a light white-washed gray laminate floor that looks like wood planks for the kitchen, entry way and part of the family room (a huge surface). But reading more about laminate we are hesitant because of people tracking in water from the canal, we seldom use a/c in the summer, and do not turn on the heat in the winter. Is there a tough laminate that could take these conditions or maybe we should go with a luxury vinyl plank? Any suggestions would be greatly appreciated!
– Hilary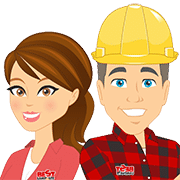 Dear Hilary,
Great question! Finding the best laminate floor for a beach house isn't always easy. You're smart to be conscientious of water from the canal. As you know, laminate is not completely waterproof. Still, the right products are durable enough to stand up to the occasional spill or tracking in of water. It shouldn't stand in your way of purchasing laminate or vinyl flooring for your home. We have compiled more information for you to help to decide what's best for you. Cheers! Bob & Betsy
Finding Durable Flooring for a Beach House
Not all laminate or vinyl flooring is created equal. Some is created in a way that's more durable than others for certain environments.
The best laminate flooring that we will suggest for your home is Kronoswiss laminate flooring. Kronoswiss flooring is ideal way to add stylish, coastal touch to your home while providing you with extra durability and moisture resistance. All Kronoswiss floros are made in Switzerland. You can count on the Swiss quality from all the Kronoswiss Collections, as they are super durable and made in compliance with current health and environmental standards.
We also recommend Alloc laminate flooring  for your beach house. These floors have aluminum locking system that is sealed, making it easier for them to keep the moisture out. They are also super durable and pretty looking, however much more expensive comparing to Kronoswiss floors.
If you are looking for a 100% moisture proof solution you may also want to consider any of the vinyl flooring we carry that are moisture proof. We have several coastal looking decors you can take a look at! Vinyl floors are your ideal solution if you are afraid of excess moisture. Read laminate versus vinyl floors comparison to decide what type of flooring is ideas for your home.
A Few More Quick Tips
No matter what kind of flooring you install, you want it to last for years to come. To help you get the longest life out of your flooring, here are a few more quick tips.
Clean up any messes right away. If you notice a puddle of water on the floor, don't let it settle. Having dry towels on hand to wipe up large amounts of water will help prevent your floors from warping or buckling.
Get the right underlayment. In a humid climate, such as near the beach, moisture can be a challenge. We suggest using a 3-in-1 underlayment to make your floor more comfortable and help wick away excess moisture so it doesn't damage your floors.
As always, we are here to help! Send us any other questions, or talk to one of our flooring experts to help you find the perfect product for your beach house. And when you're finished, be sure to send us a picture! We love seeing what our customers have done with their homes.
More Nautical Inspiration: