Dear Bob and Betsy,
I'm getting ready to install my laminate flooring but I'm not sure I have all the right equipment. What tools do I need to install laminate flooring?
– Brian B.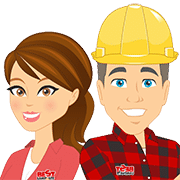 Dear Brian,
There are really only about five tools that you'll need to install laminate flooring. We have compiled more information for you to help to decide what's best for you. Cheers! Bob & Betsy
1. Tape Measure
You'll need to measure your space so that you can cut your laminate flooring pieces to fit precisely. A tape measure is the best and easiest way to do this.
2. Jigsaw
At Best Laminate, we like to use a reversible blade that will let you cut the laminate flooring downward. This way, you can cut your laminate flooring without having to move to a separate room or outside.
We suggest using a bucket for this task. Put your laminate flooring over the bucket and then cut. When the pieces are separated, they'll fall into the bucket. You won't have much dust or mess to clean up, making the installation project even easier.
3. Dry Erase Marker
Many people use pencils to mark where they need to make their cuts. With laminate, you don't have to.
Using a dry erase marker is an easy way to mark the areas where you need to cut. If you make a mistake, it erases without leaving a mark. It's easier to see when cutting and easier to manage throughout the installation process!
4. Undercut Saw
Sometimes, you'll need to cut under door jams or entryways to get the laminate flooring to install up underneath the wall.
To use this, take a small piece of padding and place it underneath a piece of your laminate flooring. Then, put your undercut saw directly onto the laminate and up against the casing.
Cut approximately a half an inch in. That will still allow the laminate to expand by a quarter of an inch.
5. Hammer
In some cases, you'll need to use a hammer to put the tapping block against the wall. If that's the case, having a hammer on hand to secure this material during installation is helpful.
That's it! Installing laminate flooring is easy but it can be difficult if it's your first time. Contact our flooring experts at any time for help or advice during your installation project. We'll guide you in the best way possible.