Dear Bob and Betsy,
I've heard quite a bit about Lumber Liquidators pulling products from the shelves because they were made in China and deemed unsafe. The situation sounds pretty grim and now I'm worried. Is all laminate flooring made in China? Where is laminate flooring made usually?
-Pamela C.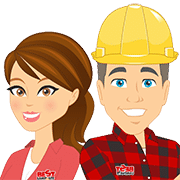 Dear Pamela,
Lumber Liquidators has certainly had their fair share of change ups since pulling the Chinese made laminate products from their shelves. Although they had originally reassured customers that the product was safe, something must have sparked the company to pull the products. We have compiled more information for you to help to decide what's best for you. Cheers! Bob & Betsy
It's normal for the headlines to stir up feelings of fear and worry. The flooring you put in your home will directly impact your family's health and long-term well being. Although we cannot address the specific products pulled by Lumber Liquidators, we can speak directly to the products sold by Bestlaminate.
The vast majority of our laminate flooring come directly from North American factories or European factories.
Laminate flooring was invented in Sweden and as the demand for this flooring grew, so did the areas where the products were developed. Now, there are many factories scattered around Europe and North America. We directly import a variety of European made brands that have strict compliance standards.
Like many companies, some manufacturers have moved production to China. Kraus and Feather Weight are two brands that produce laminate in China. We stand by their production standards and are confident in their safety. We would never sell a product without 100% certainty that your family will be safe having it installed in your home.
At Bestlaminate, we understand the concerns after hearing these types of news stories. If you're ever worried about a laminate flooring purchase, we encourage you to reach out to one of our flooring experts for details about the specific types of flooring you're considering. We'll do everything within our power to give you the peace of mind that your purchase is a safe one.