Dear Bob and Betsy,
I have my laminate and it's acclimatizing now but I'm getting nervous about beginning a laminate flooring installation. I've never done this before and I want to make sure I start it right. Any tips to help?
-Sian L.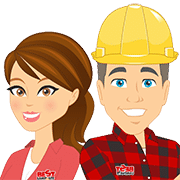 Dear Sian,
Many people can relate to your nervousness to start a laminate flooring installation. The beginning of any big project is critical. You want to start it on the right note so everything runs smoothly. You're in luck! A laminate flooring installation doesn't require years of on-the-job training and experience. It's ideal for DIYers. We have compiled more information for you to help to decide what's best for you. Cheers! Bob & Betsy
To help you enjoy the process and begin in the best way, here are a few tips.
Gather Your Tools
One of the best ways you can ensure having an easy installation experience is to have all of your tools ready.
There are a few tools you'll want to gather before beginning. For a full list of tools needed for a laminate flooring installation, click the link and check out our answer to Brian's question earlier this year.
Decide on Your Direction or Pattern
Which direction are you planning to lay your laminate flooring? Decide this before you cut any pieces or start measuring. Give yourself a small square to work with and set down a few planks to decide on the right direction for your home. Don't' forget to stagger your planks. This will give a more natural look.
Will you add a pattern, such as chevron or scattered colored planks? This requires a little extra planning on your part. Lay down your planks to gauge how you will install your floors. This will also help you determine where you need to make cuts.
While doing this, try to make sure you will end up with a row that is at least 3 feet wide. This will save you from cutting and make it easier to finish up the room when you're close to completion.
Measure it Out
With your direction or pattern in mind, start measuring where you'll need to make cuts. Remember, you will need to leave room for an expansion gap. This should be a quarter inch. Placing spacers can help you keep the gap consistent around the room.
Read All of the Manufacturer Directions
Reading the directions and getting a feel for the installation will be very beneficial before starting. Following the instructions is important to maintaining the warranty and avoiding damage. If you're confused at the directions, try to search for a video tutorial online or call one of our flooring experts for some help.
Start Small
Don't overwhelm yourself with making all of your necessary cuts right away. Start small and gradually make cuts as you go. You'll soon get the hang of it and find yourself getting into a steady rhythm.
Any other questions? We're here to help! Contact our flooring experts by phone, chat or email anytime for a quick response.
Learn More: