Dear Bob and Betsy,
I am interested in Kronoswiss Noblesse Tokyo Oak and I see that you have two kinds, a square edge and a beveled edge version of the same floor. Which edge type would be the best for an installation throughout my first floor and kitchen?
–Joe V.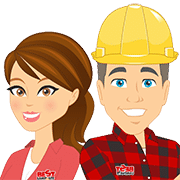 Dear Joe,
We're glad that you have found the perfect flooring for your renovation! You've made the hardest decision when it comes to selecting a new laminate flooring. It seems that the final question is which laminate flooring edge type should you choose. Let us explain the differences between these floors and which would be best for your kitchen and first-floor installation. We have compiled more information for you to help to decide what's best for you. Cheers! Bob & Betsy
The Different Edge Types
As you know, Kronoswiss Tokyo Oak is a stunning flooring, whether it's the beveled edge or the square edge design. They are the exact same floor, except for the edges of the flooring! Now you may think, well that's just a cosmetic difference. Right? Wrong!
What This Difference Means
Beveled edge flooring is actually slightly easier to install, but it leaves a wanted groove behind. What does this mean for those installing in a kitchen? Possible water damage. While laminate flooring is moisture resistant, it is not waterproof. If water was to seep down between these decorative little channels, it could cause cupping or warping to your laminate. Square edge laminate flooring, on the other hand, has no gaps between the planks, creating a seamless and more water resistant surface.
The Verdict?
We would recommend the square edge version of Kronoswiss Tokyo Oak for a kitchen installation, or anywhere where these could be moisture present. If you aren't concerned with spills in the kitchen, by all means, install the beveled edge! Both floors look stunning in all areas of the home! If you would like to be extra cautious, when installing any laminate flooring in a moisture prone area, consider adding waterproof glue to the locking system while you're installing your planks. This will help ensure a more moisture resistant seal in between the planks.
We hope this helps answer any questions you may have about choosing between beveled and square edge flooring when it comes to installing in kitchens! If you have any other questions, write them in the comments below and we will be happy to answer them!
Learn More: