How Laminate Flooring Is Made  Laminate Wood Floors Construction and Benefits
The beauty of laminate wood flooring is in the details. Real wood is combined with other materials to create a strong, durable surface. We think you'll be impressed when you see just how laminate flooring is made.
Laminate Flooring Construction
So you may be asking, what is laminate flooring made of? Each plank of laminate flooring has four distinct layers. Combined, the flooring construction creates a solid, durable piece of flooring that not only looks great but also withstands foot traffic, pet traffic, drops, spills, and other abuse.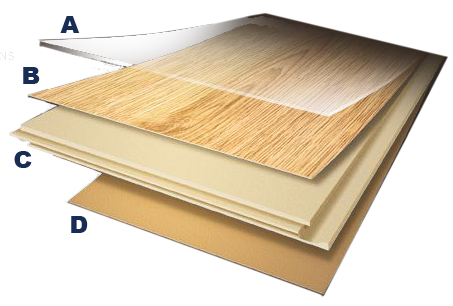 A.  Wear Layer – This is the layer that protects your laminate floors from anything that could take away from the look and feel of the floor, such as stains or fading. It's a clear topcoat that sits on top of the floor's design image.
B. Design Layer – A high-definition printer is used to make stunning, realistic looking designs. The printed-paper sits on top of the inner core to add a beautiful look of hardwood or tile. To create each plank, these four pieces are pressed firmly together. This is done using either direct pressure or high pressure construction.
C. Inner Core – The inner core is made of wood. It is what keeps your laminate floor so stable and flat. This is the thickest layer. The core is compiled of wood pulp that is adhered together.
D. Backing – Laminate is not waterproof, but with the backing layer on the bottom of the flooring is moisture resistant. The backing is placed on the bottom to work as a barrier from any excess moisture. This is the layer that lowers the chance for warping from the sub-floor.
E. Underlayment – An underlayment padding can also be adhered onto the backing layer. Not all laminate floors have attached underlayment, so it can be purchased separately.
DPL vs HPL Laminate Construction
Although each plank has the same layers, there are two different types of laminate flooring construction – Direct Pressure Laminate (DPL) and High-Pressure Laminate (HPL). As you browse through various types of flooring, you'll undoubtedly see these terms used on the types of laminate you consider. Here's what they mean.
• DPL flooring is constructed using 300 to 500 pounds of pressure. The planks created using this wood floor construction method are often made for residential or low-traffic areas. Typically, you will find this construction process used with AC1 through AC4 ratings.
• HPL flooring is constructed using an additional layer of paper sheets and treated with a stronger resin, making the top layers stiffer and more durable. In addition, the materials are pressed together using 1,300 or more pounds of pressure. This maximizes their strength. Often, these floors are used in commercial areas with high levels of foot traffic.
For homeowners, DPL flooring is the most affordable and still offers the durability you'd expect from laminate. For business owners, depending on how much foot traffic your floors will experience, an HPL flooring construction might be the better option.
Eco-Friendly Flooring Construction
No matter what type of laminate flooring you buy, one thing is certain – it's eco-friendly. Laminate manufacturers respect nature by using raw and recycled wood materials, such as wood chips and wood fibers. Production of laminate is also eco-friendly. Manufacturers of laminate monitor emissions, forestry regulations and waste control.
Want more information? You got it!